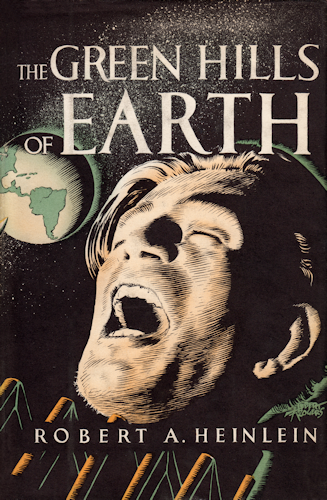 First Edition 1951.
Shasta Publishers.
Chicago.
ISBN: N/A.
Hardback in dust jacket.


Cover illustration by Hubert Rogers.


256 pages.
Price: $3.00.

Notes
The Green Hills of Earth, a collection of Future History short fiction by Robert A. Heinlein.
Delilah and the Space-Rigger
Space Jockey
The Long Watch
Gentlemen, Be Seated
The Black Pits of Luna
"It's Great to Be Back!"
"...We Also Walk Dogs"
Ordeal in Space
The Green Hills of Earth
Logic of Empire
The image opposite and the blurb below are from the 1954 Sidgwick & Jackson hardback edition. Cover illustration by Gerard Quinn.

Publisher's Blurb – Lower Cover
HOW REAL can the future be? What is life really like in the 21st Century? There will still be men and women trying to work out personal problems, adjusting themselves to daily life—on the Moon and neighbouring planets!

Consider the space pilot trying to land his passengers and cargo with 10% less fuel than is safe. Or consider the man who must choose between joining a military coup aimed at world dictatorship, or stopping it at the cost of his own life. Or how would you like to be sold into slavery on another planet?

But, there are many compensating features about tomorrow. There's General Services, for example, a firm that will beg, build, borrow, buy or—if necessary—steal almost anything you want. Then there are those wonderful living conditions on Luna, for which more than one newly-married couple have forsaken the Earth.

And there are the songs of Rhysling, blind singer of the spaceways. No one will ever forget his songs. And no one will ever forget his heroism on the flight from Venus.

There is a good reason why Robert Heinlein is the leading science-fiction writer of today; it's because he writes so well about tomorrow! Each story in this volume is independent in itself, yet each is another connecting link in the vast chain comprising the Future History.

The Green Hills of Earth is the eagerly-awaited second volume in this series, a thrilling successor to The Man Who Sold the Moon.

If you are looking for new, secondhand or out-of-print books then AbeBooks UK may be able to help.
Alternatively, you can search and order through AbeBooks.com.