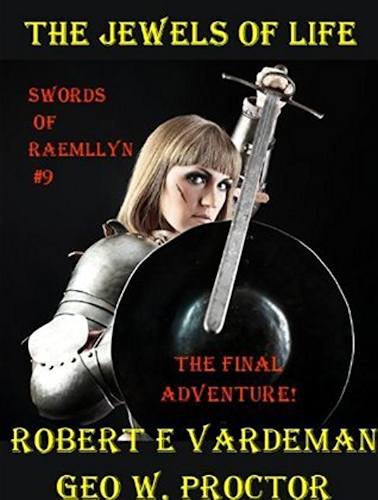 First Edition 2011
The Cenotaph Press
Albuquerque
ISBN: None
eBook


Cover design by Robert E. Vardeman


No. of Pages: N/A
Price: $4.99

Notes
The Jewels of Life, a novel by Robert E. Vardeman and Geo. W. Proctor.

The ninth and final part of the Swords of Raemllyn series.

Issued in eBook format only.

Publisher's Blurb – Lower Cover
Davin Anane has lost his best friend, Goran One-Eye, who returned home to an alternate plane of existence. While happy for his stalwart battle companion, Davin finds life challenging without him. Once the greatest thief in all Raemllyn, his light-fingered talents have waned as he wielded the magical Sword of Kwerin Bloodhawk to defeat a tyrant.

But his services are no longer required as soldier and savior. Raemllyn is at peace with his half-brother on the throne. Worse, Davin's rusty skills at thievery are subverted for an evil purpose. The Jewels of Life can give incredible power – he wants them. But Davin pursues this quest fraught with danger, duplicity and deception, until . . .

. . . he finds an unexpected, comely companion willing – oh so willing! – to aid him. Davin discovers mere friendship might be overrated when he finds a new partner and true love.

The final adventure begins!

Book #9 of the

Swords of Raemllyn series. Never before available in the USA.
If you are looking for new, secondhand or out-of-print books then AbeBooks UK may be able to help.
Alternatively, you can search and order through AbeBooks.com.