"Much blood has been spilled on the carpet in attempts to distinguish between science fiction and fantasy. I have suggested an operational definition:
Science fiction is something that could happen -- but usually you wouldn't want it to.
Fantasy is something that couldn't happen -- though often you only wish that it could."
from Arthur C. Clarke's to

SFandFantasy.co.uk is a collection of bibliographies listing Science Fiction and Fantasy books and magazines. Originally set up as a home for the Richard C. Meredith pages, the site has grown to be a record of the reading habits of a teenager in the 1980s and early 1990s. The long-term aim of the site is to include illustrated listings for a wide range of authors, artists and series.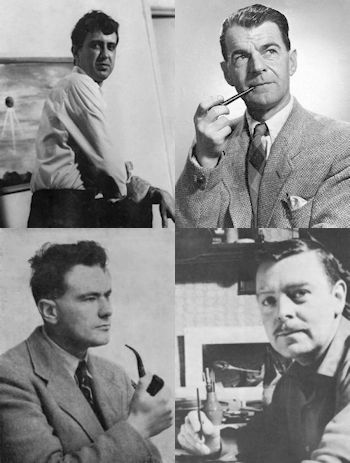 The site currently includes listings for authors and artists:
as well as book and magazine series:
in addition to science fiction universes and fantasy worlds:
Richard C. Meredith (1937-1979) wrote science fiction novels and short stories in the 1960s and 70s. Never a prolific author, his unexpected death in 1979, at the age of just 41, came just as his writing career was beginning to flourish, with the publication of The Timeliner Trilogy by Playboy Press and an expansion of his repertoire into ghost stories.
Philip E. High (1914-2006) began to write science fiction short stories in the mid-50s, and was still writing when he died over fifty years later. His long writing career resulted in an extensive list of short stories published in magazines such as Nebula, New Worlds and Fantasy Adventures, as well as 17 novels and anthologies.
Eddie Jones (1935-1999) was a British science fiction illustrator. Initially known as a fan-artist, he later worked as a professional freelancer producing cover artwork for book and magazine publishers in Britain, Europe and the United States. Although probably best known for his Star Trek covers for Bantam Books, much of his output was for German publishers, including 103 covers for Bastei Lübbe's science fiction imprint and over 530 for Terra Astra magazine.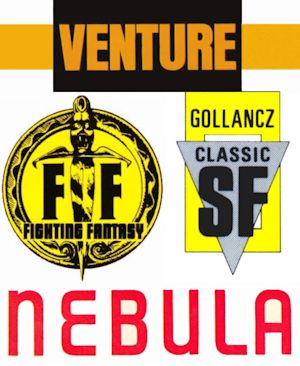 Isaac Asimov, Arthur C. Clarke and Robert A. Heinlein are informally known as the "Big Three" - the best known members of the group of authors who brought science fiction into a Golden Age in the middle years of the twentieth century.
Lin Carter was an American science fiction and fantasy writer, as well as an editor, poet and critic. He is known for his SF and fantasy series including Thongor of Valkarth and Jandor of Callisto, for his adaptions and pastiches of Robert E. Howard's Conan stories, and for his work as editor of the Ballantine Adult Fantasy series and several anthology series.
Alan Dean Foster is the author of the Humanx Commonwealth and Spellsinger series of novels and also of a large number of standalone novels and film screenplay novelizations.
Patrick Moore was an English astronomer, writer, researcher, radio commentator and television presenter. In addition to many popular science books, he also wrote numerous works of science fiction.
J.R.R. Tolkien (1892-1973) is best known as the author of The Hobbit, The Lord of the Rings, and The Silmarillion. After his death, Tolkien's son Christopher edited many of his father's manuscripts for publication.
Robert E. Vardeman is the author of over 300 novels in a range of genres. He has written several well-known series including The War of Powers (co-authored with Victor Milán), Swords of Raemlynn (co-authored with Geo. W. Proctor) and Cenotaph Road. Much of his output has been published under a variety of pseudonyms and house names.
Fighting Fantasy is a series of single-player roleplay game-books created by Steve Jackson and Ian Livingstone. Puffin Books published the series between 1982 and 1995, when they allowed the books to go out of print. Wizard Books revived the series in 2002 when they began to reissue selected books from the original series along with a handful of new titles.
Nebula Science Fiction was British magazine edited by Peter Hamilton and published between 1952 and 1959. Its 41 issues included stories by authors including Robert Silverberg, Robert A. Heinlein, Brian Aldiss, Philip E. High, E.C. Tubb and Kenneth Bulmer.
Science Fiction Book Series currently includes bibliographies of four series of SF&F novels and collections.
Venture Science Fiction was published by Arrow Books between 1985 and 1989. Its 25 volumes included books by authors such as Richard C. Meredith, Philip E. High, Timothy Zahn and Edmond Hamilton, and cover art by Eddie Jones.
Gollancz Classic SF was published from 1986 to 1987 and reached 20 volumes before it was replaced by VGSF Classics.
Tandem Sci-Fi and Science Fantasy was a short-lived series and occasional series that appeared between 1970 and 1972, just 16 books were published, all imports from the U.S. It includes all six of Lin Carter's Thongor of Lemuria novels as well as the three Brak the Barbarian books by John Jakes and three SF novels by Robert Silverberg.
Sphere Science Fiction Classics was published from 1971 to 1977, although no new titles were published after 1974; 14 titles were published, many with cover art by Eddie Jones.
SFandFantasy.co.uk - Future Plans
The site is still under construction, but is slowly becoming more complete. Some of the biographies, such as those for Isaac Asimov and J.R.R. Tolkien, have been copied from Wikipedia, with a little correction. This is only a temporary measure and they will eventually be replaced with purpose written text when time allows.
Future additions to the site may include Kurt Vonnegut, Robert Silverberg, Jeff Noon, Anne McCaffrey, Harry Harrison, Stephen Donaldson, Terry Brooks, Poul Anderson and Swords & Sorcery novels.

If you are looking for new, secondhand or out-of-print books then AbeBooks UK may be able to help.
Alternatively, you can search and order through AbeBooks.com.