A Brief Biography of Robert A. Heinlein (1907-1988)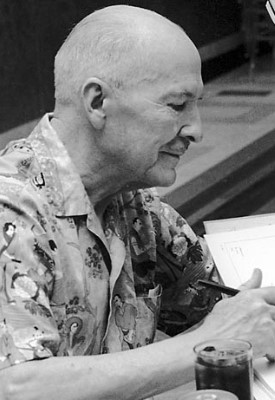 Robert Anson Heinlein, born in Butler, Missouri on 7 July 1907, was a science fiction writer.
Sometimes called the "dean of science fiction writers", he was one of the most influential and controversial authors of the genre in his time. He set a standard for scientific and engineering plausibility, and helped to raise the genre's standards of literary quality.
Heinlein was one of the first science fiction writers to break into mainstream magazines such as The Saturday Evening Post in the late 1940s and was one of the best-selling science fiction novelists for many decades. He, Isaac Asimov, and Arthur C. Clarke are known as the "Big Three" of science fiction.
A notable writer of science fiction short stories, Heinlein was one of a group of writers who came to prominence under the editorship of John W. Campbell, Jr. in his magazine, Astounding Science Fiction, though Heinlein denied that Campbell influenced his writing to any great degree.
Within the framework of his science fiction stories, Heinlein repeatedly addressed certain social themes: the importance of individual liberty and self-reliance, the obligation individuals owe to their societies, the influence of organized religion on culture and government, and the tendency of society to repress nonconformist thought. He also examined the relationship between physical and emotional love, explored various unorthodox family structures, and speculated on the influence of space travel on human cultural practices. His approach to these themes led to wildly divergent opinions on what views were being expounded via his fiction.
Heinlein won Hugo Awards for four of his novels; in addition, fifty years after publication, three of his works were awarded "Retro Hugos" - awards given retrospectively for years in which Hugo Awards had not been awarded. He also won the first Grand Master Award, given by the Science Fiction Writers of America, for his lifetime achievement. In his fiction Heinlein coined words that have become part of the English language, including "grok" and "waldo", and popularized the term "TANSTAAFL" - "There ain't no such thing as a free lunch".
References
- Baen Books - by William H. Patterson, Jr. - retrieved 5 May 2015
- The Encyclopedia of Science Fiction - - retrieved 24 September 2012
- Heinlein Books - - retrieved 14 July 2017
- Heinlein Prize Trust - - retrieved 24 February 2016
- Heinlein Society - - retrieved 31 March 2015
- Internet Speculative Fiction Database - - retrieved 24 September 2012
- Magnificent Nose - by Neil Fein - retrieved 31 March 2015
- site:RAH - by James Gifford - retrieved 31 March 2015
- Troynovant - by Robert Wilfred Franson - retrieved 31 March 2015
- Wikipedia - - retrieved 31 March 2015
- Wikipedia - Robert A. Heinlein - retrieved 24 September 2012 - the text above is a revised & reduced version of the Wiki article
- Wikipedia - - retrieved 31 March 2015
An illustrated bibliography is available here.
The dividing lines between Future History, Lazarus Long, the World-as-Myth and the standalone novels are not as definite as you might think - the chart below attempts to demonstrate.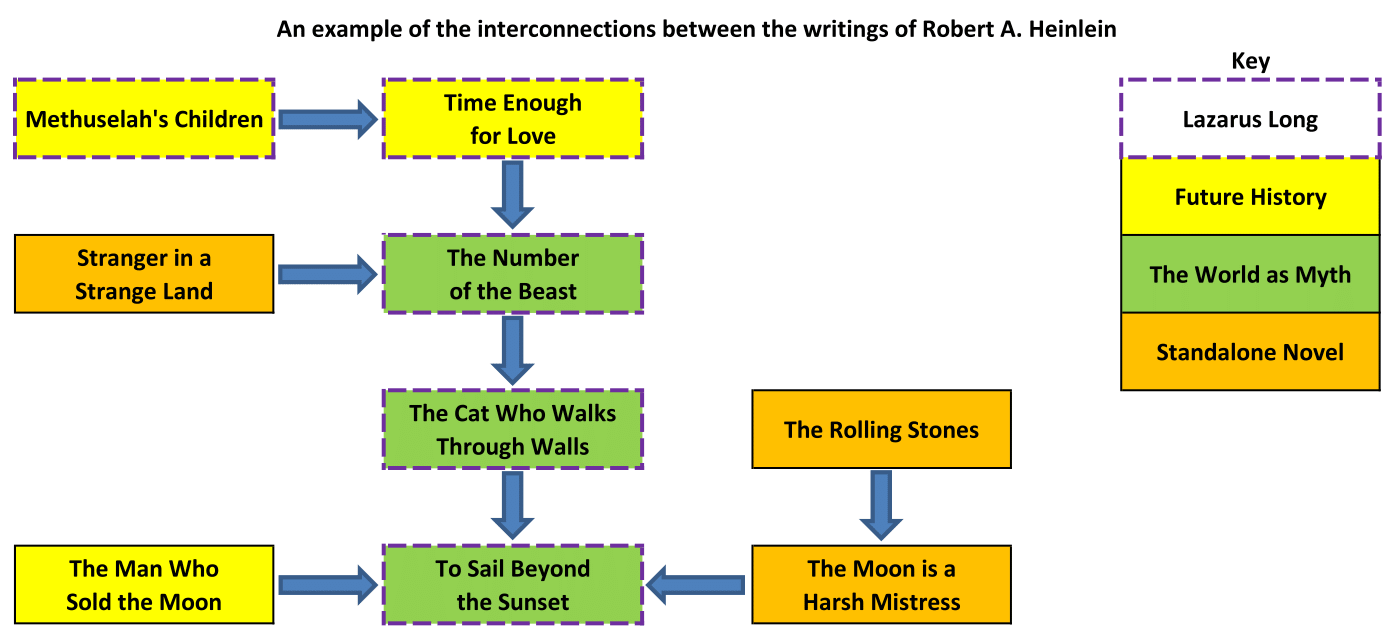 Lists of the first publications of Robert A. Heinlein's non-magazine published fiction appear below along with a selection of non-fiction and autobiographical writings.
Titles in black are novels and chapterbooks, while those in blue are collections and omnibuses.
Future History

Year
Title
Publisher
ISBN
Notes
1950
The Man Who Sold the Moon
Shasta
N/A
Short story collection
1951
The Green Hills of Earth
Shasta
N/A
Short story collection
1951
Dell
N/A
Chapterbook
1952
Malian Press
N/A
Chapterbook
1953
Revolt in 2100
Shasta
N/A
Short story collection
1958
Gnome Press
N/A
Novel - Previously published as a serial in
1963
Orphans of the Sky
Gollancz
N/A
Two stories from .
1967
The Past Through Tomorrow
G.P. Putnam's Sons
N/A
Collection including and a selection of short stories
1973
G.P. Putnam's Sons
0399111514
2010
The Future History of
Robert Heinlein Volume I
The Virginia Edition
9781897350331
Short story collection
2010
The Future History of
Robert Heinlein Volume II
The Virginia Edition
9781897350348
Collection including and a selection of short stories

Lazarus Long

Year
Title
Publisher
ISBN
Notes
1958
Gnome Press
N/A
Previously published as a serial in
1973
G.P. Putnam's Sons
0399111514
1978
The Notebooks of
Lazarus Long
G.P. Putnam's Sons
0399122427
Illustrated excerpts from
1980
New English Library
0450047369
1985
G.P. Putnam's Sons
0399131035
1987
Ace / Putnam
0399132678

Other Novels

Year
Title
Publisher
ISBN
Notes
1947
Charles Scribner's Sons
N/A
1948
Fantasy Press
N/A
Previously published as a serial in
1948
Charles Scribner's Sons
N/A
1949
Gnome Press
N/A
Previously published as a serial in
1949
Charles Scribner's Sons
N/A
Also appeared as (1951)
1950
Charles Scribner's Sons
N/A
Also published as a serial in
1951
Charles Scribner's Sons
N/A
Also published as a serial in
1951
Doubleday
N/A
This novel was abridged for publication in 1951
Also published as a serial in
An uncut edition was published in 1990
1952
Charles Scribner's Sons
N/A
Also published in an abridged form in
Also appeared as (1969)
1953
Charles Scribner's Sons
N/A
1954
Charles Scribner's Sons
N/A
Also published in
1955
Charles Scribner's Sons
N/A
1956
Doubleday
N/A
Also published as a serial in
1956
Charles Scribner's Sons
N/A
1957
Doubleday
N/A
Also published in
1957
Charles Scribner's Sons
N/A
Also published as a serial in
1958
Charles Scribner's Sons
N/A
Also published in
1959
G.P. Putnam's Sons
N/A
Also published in
1961
G.P. Putnam's Sons
N/A
1963
G.P. Putnam's Sons
N/A
Also published in
1963
G.P. Putnam's Sons
N/A
Also published in
1964
G.P. Putnam's Sons
N/A
Also published in
1966
G.P. Putnam's Sons
N/A
Also published in
1970
G.P. Putnam's Sons
N/A
Also published in
1982
New English Library
0450048985
Novel
1984
Del Rey-Ballantine
0345313577
2004
Scribner
074325998X
2006
Tor
076531312X
with Spider Robinson
Collections & Omnibuses

Year
Title
Publisher
ISBN
Notes
1950
Waldo and Magic, Inc.
Doubleday
N/A
Two stories
Also appeared as (1958)
1953
Assignment in Eternity
Fantasy Press
N/A
Short story collection
1959
The Unpleasant Profession
of Jonathan Hoag
Gnome Press
N/A
Short story collection
Also appeared as (1961)
1959
The Menace from Earth
Gnome Press
N/A
Short story collection
1966
The Worlds of Robert A. Heinlein
Ace
N/A
Short story collection
1973
The Best of Robert Heinlein
Sidgwick & Jackson
0283979828
Short story collection
1979
Destination Moon
Gregg Press
0839825013
Includes the original novelette together with an essay on the making of the film
1980
Expanded Universe
Grosset & Dunlap
0448119161
Short story and essay collection
1992
Requiem
Tor
0312851685
Short story and essay collection together with contributions from various SF notables
1999
The Fantasies of Robert A. Heinlein
Tor
0312872453
Short story collection
2005
Off the Main Sequence
Science Fiction
Book Club
1582881847
Short story collection
2008
Project Moonbase and Others
Subterranean Press
9781596061866
Short story and screenplay collection
2010
Creating a Genre
The Virginia Edition
9781897350386
Short story collection
2010
New Worlds to Conquer
The Virginia Edition
9781897350461
Short story collection
2012
Screen Writing of Robert A. Heinlein Volume I
The Virginia Edition
9781897350119
Movie-related writings collection
2012
Screen Writing of Robert A. Heinlein Volume II
The Virginia Edition
9781897350126
Movie-related writings collection
Non-Fiction


(Titles in blue are interviews.

The remainder in black are biographical works, letters collections and general non-fiction)
Year
Title
Publisher
ISBN
Notes
1959
Advent Publishers
N/A
with C. M. Kornbluth, Basil Davenport, Alfred Bester & Robert Bloch
1973

Algol

(#21, November 1973)

Andrew Porter
N/A
Includes an interview with Heinlein by Alfred Bester
1980

Science Fiction Review




(#36, August 1980)

Richard E. Geis
N/A
Includes an interview with Heinlein by David A. Truesdale
1989

Thrust

(#33 Spring 1989)

Thrust Publications
N/A
Includes an interview with Heinlein by Michael J. Patritch
1990
Del Rey-Ballantine
0345362462
Letters collection
1990

Science Fiction Review




(Vol.1, No.1, Spring 1990)

SFR Publications
N/A
Includes an interview with Heinlein by Eric Hoffman
1992
Ace Books
0441821847
Heinlein's account of a trip around the world
1992
Baen
0671721577
Also appeared as (2008)
1999
The Robert Heinlein Interview and Other Heinleiniana
Pulpless.Com
1584450150
Includes an interview with Heinlein by J. Neil Schulman
2000
Redemolished
ibooks
0743407253
Includes an interview with Heinlein by Alfred Bester
2010
Tor
9780765319609
Authorized Biography by William H. Patterson, Jr.
2011
The Virginia Edition
9781897350423
Poetry, letters, essays, reviews and interviews
2011
The Virginia Edition
9781897350430
Letters, essays and interviews
2011
The Virginia Edition
9781897350416
Correspondence between John W. Campbell, Jr. and Robert A. Heinlein
2011
The Virginia Edition
9781897350492
Letters collection
2011
The Virginia Edition
9781897350430
Letters collection

The Virginia Edition

Vol.
Title
Date
ISBN
Notes
1
April 2008
9781897350034
2
April 2008
9781897350041
3
April 2008
9781897350058
4
April 2008
9781897350065
5
April 2008
9781897350072
6
April 2008
9781897350089
7
April 2008
9781897350096
8
December 2008
9781897350133
9
December 2008
9781897350140
Non-Fiction - aka
10
December 2008
9781897350157
11
December 2008
9781897350164
12
December 2008
9781897350171
13
December 2008
9781897350188
14
December 2008
9781897350195
15
December 2008
9781897350201
16
December 2008
9781897350218
17
December 2008
9781897350225
18
December 2008
9781897350232
19
December 2008
9781897350249
20
December 2008
9781897350256
21
December 2008
9781897350263
22
The Future History of
Robert Heinlein Volume I
February 2010
9781897350331
Short story collection
23
The Future History of
Robert Heinlein Volume II
February 2010
9781897350348
Short story and essay collection
24
February 2010
9781897350324
25
February 2010
9781897350317
26
February 2010
9781897350355
27
February 2010
9781897350362
28
February 2010
9781897350379
29
February 2010
9781897350409
30
February 2010
9781897350393
31
Expanded Universe
February 2010
9781897350447
Short story and essay collection
32
Creating a Genre
November 2010
9781897350386
Short story collection
33
November 2010
9781897350454
34
New Worlds to Conquer
November 2010
9781897350461
Short story collection
35
November 2010
9781897350478
36
November 2010
9781897350485
37
The Nonfiction of
Robert Heinlein Volume I
July 2011
9781897350423
Poetry, letters, essays, reviews and interviews
38
The Nonfiction of
Robert Heinlein Volume II
July 2011
9781897350430
Letters, essays and interviews
39
The Heinlein Letters
Volume I
July 2011
9781897350416
Correspondence between John W. Campbell, Jr. and Robert A. Heinlein
40
The Heinlein Letters
Volume II
July 2011
9781897350492
Letters collection
41
The Heinlein Letters
Volume III
July 2011
9781897350430
Letters collection
42
July 2011
9781897350515
43
February 2012
9781897350522
Heinlein's account of a trip around the world
44
Screen Writing of Robert A. Heinlein Volume I
February 2012
9781897350119
Movie-related writings collection
45
Screen Writing of Robert A. Heinlein Volume II
February 2012
9781897350126
Movie-related writings collection
46
Requiem
February 2012
9781897350539
Short story and essay collection together with contributions from various SF notables