"Do you remember when humans were heroes, androids didn't have social hang-ups
and the only good alien was a dead one?
Rog Peyton and Rod Milner do... and they've done something about it."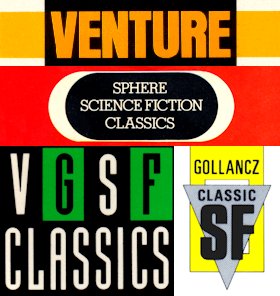 In April 1985 Arrow Books launched a new series of books under their Hamlyn Paperbacks imprint.
Venture Science Fiction, or as it was better known, Venture SF was hailed by Arrow Books as "a new publishing imprint to bring you the very best in adventure SF. Time travel, galactic empires, alien invasions - all the traditional elements that have made science fiction the most exciting form of literature of the 20th century. In Venture SF, we'll be bringing you novels of action adventure - no short stories, no fantasy, no boredom. If action adventure SF is your type of reading, then Venture SF is for you - every book published by us will be the first appearance in paperback in the UK. We'll be publishing one new book every month - Start collecting them now!"
Back in the mid-1980s this was right up my street and the distinctive cover design caught my eye. I started collecting with gusto. Many of the authors were not particularly well known to me, but their books were easy reading, enjoyable, and well worth a look. After the launch in April 1985, the books were published until September 1989, with a few breaks and changes to the imprint.
Twenty-five volumes were issued in total over a four and a half year period. None of them had been published before in paperback format in the UK, and for many it was their first British appearance. The series was edited by Rog Peyton and Rod Milner of Andromeda Books (the late, but great, bookshop in Birmingham) and the cover illustrations were all painted by artist Eddie Jones. Some of the 25 cover illustrations were originals painted for friends and conventions, while others had been used previously for other books and magazines (see Interzone No.150, p.5).
Venture SF went through a quiet phase during 1986, but Gollancz came to the rescue with Gollancz Classic SF. Here I found authors already encountered through the local library, such as Robert Silverberg and Arthur C. Clarke, but also others like Robert Heinlein and Kurt Vonnegut were waiting for me.
Unfortunately the series was short lived, only making it to volume 20 due to changes at Gollancz and the creation of VGSF - their new science fiction imprint. Gollancz Classic SF was replaced by VGSF Classics in January 1988; the volume numbering continued but the books were issued in a smaller format with new logo and less uniform appearance.
Nearly twenty-five years later, while looking for something to read, I re-discovered a selection of books from both series and began to read them all over again. I have been scouring the web and secondhand bookshops looking to fill in the holes in my collection, and after a lot of searching I believe I have completed both series. As I had already collated the details it was a fairly simple task to drop them into a database and add images of each volume.
Postscript
Every now and then I see a set of books with a cover design that just leaps off the shelf at me. Tandem Sci-Fi & Science Fantasy is one of those series - the big 'S' on the cover and the variety of artwork used gives them both uniformity and individuality at the same time. In this case the series connects back by a convoluted path to university days when a housemate was a big fan of Arnold Schwarzenegger and the interest rubbed off a little. In turn that led to the Conan films, and then to the Robert E. Howard stories which were edited (and continued) by L. Sprague de Camp and Lin Carter - and this is where we meet Tandem SF&F: Lin Carter wrote a series of swords and sorcery novels centred around Thongor the Barbarian and it was these that I stumbled upon one day in a second-hand bookshop. Not long after I also found The Man in the Maze and Hawksbill Station by Robert Silverberg and after a lot of searching I think I have found all of the books issued in the series before the format changed to be much less distinctive.
| | |
| --- | --- |
| Book lists for each publisher series appear below: | Illustrated bibliographies can be found here: |

Click on a title to see details of each volume as well as the publisher's blurb
Venture Science Fiction
Vol.
Title
Author
Date Issued
Imprint
ISBN
1
Richard C. Meredith
April 1985
Hamlyn Paperbacks
ISBN 0099388804
2
Philip E. High
April 1985
Hamlyn Paperbacks
ISBN 0099388901
3
David Drake
May 1985
Hamlyn Paperbacks
ISBN 0099398702
4
John Brunner
June 1985
Hamlyn Paperbacks
ISBN 0099388707
5
Edmond Hamilton
July 1985
Hamlyn Paperbacks
ISBN 0099400308
6
David Gerrold
August 1985
Hamlyn Paperbacks
ISBN 0099409003
7
Philip E. High
September 1985
Hamlyn Paperbacks
ISBN 009942780X
8
Richard C. Meredith
October 1985
Hamlyn Paperbacks
ISBN 0099428202
9
David Drake
November 1985
Hamlyn Paperbacks
ISBN 0099435500
10
Edmond Hamilton
April 1986
Arrow Books
ISBN 0099478609
11
Timothy Zahn
June 1986
Arrow Books
ISBN 0099485001
12
David Gerrold
April 1987
Arrow Books
ISBN 0099506602
13
Philip E. High
June 1987
Arrow Books
ISBN 0099504502
14
Richard C. Meredith
August 1987
Arrow Books
ISBN 009951690X
15
Timothy Zahn
October 1987
Arrow Books
ISBN 0099514109
16
Stephen Goldin
December 1987
Legend
ISBN 0099527707
17
Timothy Zahn
February 1988
Legend
ISBN 0099514206
18
David Drake
August 1988
Arrow Books
ISBN 0099576902
19
Timothy Zahn
October 1988
Arrow Books
ISBN 0099576805
20
Richard C. Meredith
November 1988
Arrow Books
ISBN 0099618605
21
Roger MacBride Allen
January 1989
Arrow Books
ISBN 0099621800
22
John Brunner
March 1989
Arrow Books
ISBN 0099624400
23
Timothy Zahn
May 1989
Arrow Books
ISBN 0099640503
24
David Drake
July 1989
Arrow Books
ISBN 0099662809
25
Roger MacBride Allen
September 1989
Arrow Books
ISBN 0099621908
Click on a title to see details of each volume as well as the publisher's blurb
Gollancz Classic Science Fiction
Vol.
Title
Author
Date Issued
Imprint
ISBN
1
Kurt Vonnegut
March 1986
Gollancz Classic SF
ISBN 0575038195
2
Theodore Sturgeon
March 1986
Gollancz Classic SF
ISBN 0575038217
3
Robert Silverberg
March 1986
Gollancz Classic SF
ISBN 0575038209
4
Samuel R. Delany
March 1986
Gollancz Classic SF
ISBN 0575038187
5
Arthur C. Clarke
September 1986
Gollancz Classic SF
ISBN 0575038497
6
Robert A. Heinlein
September 1986
Gollancz Classic SF
ISBN 0575038500
7
Frederik Pohl and C.M. Kornbluth
September 1986
Gollancz Classic SF
ISBN 0575038527
8
John Sladek
September 1986
Gollancz Classic SF
ISBN 0575038519
9
Arthur C. Clarke
February 1987
Gollancz Classic SF
ISBN 0575039787
10
Bob Shaw
February 1987
Gollancz Classic SF
ISBN 0575039809
11
Algis Budrys
April 1987
Gollancz Classic SF
ISBN 0575039795
12
Frederik Pohl
April 1987
Gollancz Classic SF
ISBN 0575039817
13
Christopher Priest
June 1987
Gollancz Classic SF
ISBN 0575039930
14
Daniel Keyes
June 1987
Gollancz Classic SF
ISBN 0575040610
15
Robert Sheckley
August 1987
Gollancz Classic SF
ISBN 0575041226
16
Edited by Harlan Ellison
August 1987
Gollancz Classic SF
ISBN 0575041447
17
Samuel R. Delany
October 1987
Gollancz Classic SF
ISBN 0575041234
18
Frederik Pohl and C.M. Kornbluth
October 1987
Gollancz Classic SF
ISBN 0575041277
19
Ward Moore
December 1987
Gollancz Classic SF
ISBN 0575041218
20
John Crowley
December 1987
Gollancz Classic SF
ISBN 057504134X
Click on a title to see details of each volume as well as the publisher's blurb
VGSF Classics
Vol.
Title
Author
Date Issued
Imprint
Publisher Code
21
Arthur C. Clarke
February 1988
VGSF Classics
ISBN 0575041951
22
Christopher Priest
April 1988
VGSF Classics
ISBN 0575039949
23
Arthur C. Clarke
May 1988
VGSF Classics
ISBN 0575042672
24
Cordwainer Smith
May 1988
VGSF Classics
ISBN 0575041668
25
Cordwainer Smith
June 1988
VGSF Classics
ISBN 057504165X
26
Cecelia Holland
July 1988
VGSF Classics
ISBN 057504280X
27
Arthur C. Clarke
September 1988
VGSF Classics
ISBN 0575043164
28
Cordwainer Smith
November 1988
VGSF Classics
ISBN 0575041676
29
Christopher Priest
December 1988
VGSF Classics
ISBN 0575042834
30
Brian Aldiss
February 1989
VGSF Classics
ISBN 057504179X
31
Robert Silverberg
March 1989
VGSF Classics
ISBN 0575044373
32
M. John Harrison
April 1989
VGSF Classics
ISBN 0575042206
33
Vonda N. McIntyre
June 1989
VGSF Classics
ISBN 0575044977
34
Arthur C. Clarke
August 1989
VGSF Classics
ISBN 0575045906
35
William Tenn
September 1989
VGSF Classics
ISBN 0575045949
36
Brian Aldiss
September 1989
VGSF Classics
ISBN 0575041803
37
Ursula Le Guin
November 1989
VGSF Classics
ISBN 0575046074
38
Poul Anderson
January 1990?
VGSF Classics
ISBN 0575046171
39
Ian Watson
January 1990
VGSF Classics
ISBN 0575046457
40
Robert Silverberg
January 1990
VGSF Classics
ISBN 0575047348
41
Brian Aldiss
February 1990
VGSF Classics
ISBN 0575047356
42
Philip K. Dick
May 1990
VGSF Classics
ISBN 0575047100
43
Isaac Asimov
May 1990
VGSF Classics
ISBN 0575047127
44
Ian Watson
July 1990
VGSF Classics
ISBN 0575047844
45
Brian Aldiss
August 1990
VGSF Classics
ISBN 057504182X
46
Brian Aldiss
December 1990
VGSF Classics
ISBN 0575041811
Click on a title to see details of each volume as well as the publisher's blurb
Sphere Science Fiction Classics
Vol.
Title
Author
Date Issued
Imprint
Publisher Code
1
Brian Aldiss
July 1971
Sphere Books
10944
2
A.E. Van Vogt
1971
Sphere Books
87653
3
Clifford Simak
1971
Sphere Books
78573
4
C. M. Kornbluth
Novembr 1971
Sphere Books
53236
5
A.E. Van Vogt
February 1972
Sphere Books
87661
6
Arthur C. Clarke
June 1972
Sphere Books
24171
7
Piers Anthony
September 1972
Sphere Books
11762
8
Larry Niven
1972
Sphere Books
63924
9
Michael Moorcock
September 1972
Sphere Books
62197
10
Samuel R. Delany
April 1973
Sphere Books
29017
11
Alexei Panshin
1973
Sphere Books
66850
12
Poul Anderson
December 1973
Sphere Books
ISBN 0722111576
13
Eric Frank Russell
1973
Sphere Books
ISBN 0722175426
14
Stanley G. Weinbaum
1974
Sphere Books
ISBN 0722189621
Click on a title to see details of each volume as well as the publisher's blurb
Tandem Sci-Fi & Science Fantasy
Vol.
Title
Author
Date Issued
Imprint
SBN
1
Lin Carter
January 1970
Tandem Science Fantasy
SBN 426043782
2
Lin Carter
January 1970
Tandem Science Fantasy
SBN 426043863
3
Lin Carter
January 1970
Tandem Science Fantasy
SBN 426043197
4
Lin Carter
January 1970
Tandem Science Fantasy
SBN 426042378
5
Robert Silverberg
May 1970
Tandem Sci-Fi
SBN 426041240
6
Robert Silverberg
May 1970
Tandem Sci-Fi
SBN 42604116X
7
John Norman
June 1970
Tandem Science Fantasy
SBN 426045467
8
Lin Carter
July 1970
Tandem Science Fantasy
SBN 426046854
9
John Jakes
July 1970
Tandem Science Fantasy
SBN 426046773
10
John Jakes
July 1970
Tandem Science Fantasy
SBN 426047222
11
John Jakes
July 1970
Tandem Science Fantasy
SBN 426047141
12
Robert Silverberg
January 1971
Tandem Sci-Fi
SBN 426051009
13
Poul Anderson
January 1971
Tandem Sci-Fi
SBN 426052234
14
John Norman
May 1971?
Tandem Science Fantasy
SBN 426053702
15
Lin Carter
August 1971
Tandem Science Fantasy
SBN 426057090
16
John Norman
March 1972
Tandem Science Fantasy
SBN 42606285X