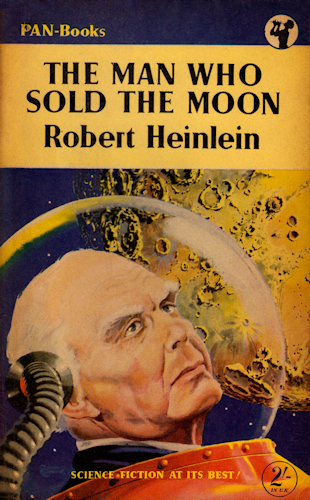 published in:

First Edition 1950.
Shasta Publishers.
Chicago.
ISBN: N/A.
Hardback in dust jacket.


Cover illustration by Hubert Rogers.


288 pages.
Price: $3.00.

Notes
Preface, prefatory remarks on the Future History series and the Future History Chart by Robert A. Heinlein, can be found on pages 15-17.

Reprinted in:
The Robert Heinlein Omnibus (1958)
A Robert Heinlein Omnibus (1966)
The Future History of Robert Heinlein: Volume I (2010)
The image opposite and the blurb below are from the 1955 printing of the Pan Books paperback edition. Cover illustration by Gerard Quinn.

Publisher's Blurb – Lower Cover
THE MAN WHO SOLD THE MOON is by one of the few really outstanding current writers of "science fiction", Robert Heinlein. He has planned what he calls his "Future History" series, intending to write stories that will span the period from the present time to A.D. 2600. He has actually drawn up a chart of possible events, which is printed on pages 250-1 of this volume, the first in the series. There are six stories here, covering the latter half of the twentieth century. In Life-line Dr. Pinero discovers how to foretell death-dates, but cannot change the inevitable. Let There Be Light tells of the invention of a cheap way of lighting and the problems it creates. Power from the Sun for a few men, or for all men? The Roads Must Roll is a startling picture of the mechanized roads of the future, rolling along at 100 m.p.h. like conveyor-belts. But the men who make the roads roll can also make them stop. We learn here what occurs when technicians in revolt start to close down the roads. Blow-ups Happen describes the grim consequences of a single mistake in the operation of an atomic power-plant. The title-story, longer than the rest, excitingly tells of Harriman, a hard-headed business-man, and a pioneering adventure to the Moon, while Requiem is another episode in Harriman's career.

Robert Heinlein did not begin writing science fiction until 1939, when he achieved instant success in this field. He has considerable knowledge of several branches of science, though he is by early training an engineer. He was Technical Director of the film

Destination Moon, made from one of his own stories a few years ago. His present residence in Colorado Springs was entirely designed by himself and is called "the perfect servantless house"; it contains a great many Heinlein-invented gadgets.
If you are looking for new, secondhand or out-of-print books then AbeBooks UK may be able to help.
Alternatively, you can search and order through AbeBooks.com.