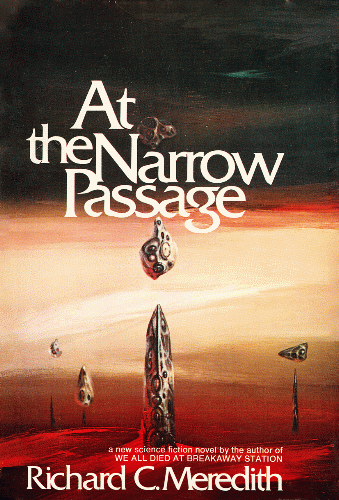 First Edition, First Printing 1973
G.P. Putnam's Sons
New York
SBN 39911100X - ISBN 039911100X
Hardback in dust jacket


Cover illustration by Richard Powers


256 pages
Price: $5.95

Notes
At The Narrow Passage, a novel by Richard C. Meredith – Part One of The Timeliner Trilogy.

According to a review slip, the book was published on 2 May 1973.

Dedication
This book is dedicated to the memory of H. Beam Piper and to the Paratime Police, to Verkan Vall, to Tortha Karf, to Hadron Dalla, and to all those who guard the multiple worlds

Blurb – Dust Jacket Flaps
A brilliant new star in the science fiction firmament has created a far-future adventure that seems to occur in the present – or something like it. A soldier of fortune from another timestream, Eric Mathers, has signed on to help in a war among the European nations that resembles what in our timestream is called World War I. But this war continues in the 1970s, and involves an army called the American Colonial Forces – said to be subjects of Britain's King George X!

But Eric Mathers learns soon enough that he's in a vastly bigger battle. The Krith, a nonhuman race from a timestream near one end of the spectrum, are in the business of altering the flow of history in various streams in order to forestall a time-wide catastrophe that their hypertechnology has told them is inevitable. Or so they say. Now, in a commando mission that tests Eric's extraordinary powers to the fullest, Eric encounters anti-Krith humans from the opposite end of the time spectrum who tell him that the whole rationale for his life as a soldier for the Krith is false. So they say.

On Eric's resolution of this dilemma hangs the existence of all civilizations in all timestreams – hangs, in fact, the existence of existence itself. Or so it seems.

Richard C. Meredith is the author of

We All Died At Breakaway Station, other novels, and highly acclaimed short fiction.
If you are looking for new, secondhand or out-of-print books then AbeBooks UK may be able to help.
Alternatively, you can search and order through AbeBooks.com.