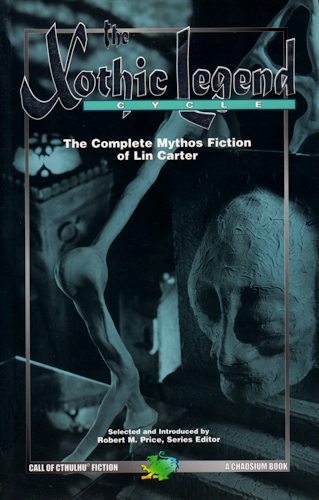 Edited by Robert M. Price
First Edition 1997
Chaosium Inc.
Oakland, California
ISBN 156882078X
Trade paperback


Cover illustration by Harry Fassl


xiv+274 pages
Price: $10.95

Notes
The Xothic Legend Cycle, a collection of Cthulhu Mythos short fiction and poetry by Lin Carter.

The contents are listed below and are by Lin Carter unless noted otherwise:
Xothic Romance: Terrors Out of Time - a foreword by Robert M. Price
The Red Offering
The Dweller in the Tomb
The Thing in the Pit
Out of the Ages
The Horror in the Gallery
The Winfield Heritance
Perchance to Dream
Strange Manuscript Found in the Vermont Woods
Dreams from R'lyeh - a collection of 31 poems
Something in the Moonlight
The Fishers from Outside
Behind the Mask
The Strange Doom of Enos Harker - with Robert M. Price
The Soul of the Devil-Bought - by Robert M. Price
The Bell in the Tower - by H.P. Lovecraft
Publisher's Blurb – Lower Cover
The late Lin Carter was the driving force behind the famous Ballantine Adult Fantasy Series of the 1970s. He was also a prolific writer and anthologist of horror and fantasy with over eighty titles to his credit, including Lovecraft: A Look Behind the Cthulhu Mythos.

Carter's tales of Mythos horror are loving tributes to H.P. Lovecraft's "revision" tales and to August Derleth's stories of Hastur and the R'lyefi Text. Most of these stories were published years ago in various anthologies and fanzines, and have been unavailable for some time. This is the first collection of Carter's Mythos tales; it includes his intended novel, The Terror Out of Time.

"Let it be said now and in this place, once and for all, that the matter which I have named 'the Xothic legend-cycle' -- which is to say, the myth-sequence of the Xothic Triad (Ghatanothoa, Ythogtha, and Zoth-Ommog) -- has at its secret core a chaotic and cosmic blasphemy so appalling in its ultimate depravity and in the magnitude of its bearings upon human and prehuman evolution as to stun even the detached and dispassionate scholar."
--Lin Carter, "The Thing in the Pit"
If you are looking for new, secondhand or out-of-print books then AbeBooks UK may be able to help.
Alternatively, you can search and order through AbeBooks.com.