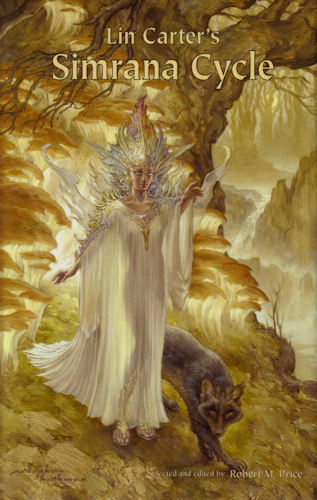 First Edition 2018
Celaeno Press
Middlesbrough / Fukuoka
ISBN: 9784902075984
Hardback in dust jacket


Cover illustration by Stephen Hickman


vi+246 pages
Price: £14.50 / $18.00

Notes
Lin Carter's Simrana Cycle, a collection of Simrana short fiction by Lin Carter and other writers inspired by the writings of Lord Dunsany.

The contents are listed below and are by Lin Carter unless noted otherwise:
Introduction - from Lin Carter: A Look Behind his Imaginary Worlds by Robert M. Price (Borgo/Starmont, 1991)
The Gods of Nion Parma
The Whelming of Oom
Zingazar
How Sargoth Lay Siege to Zaremm
The Laughter of Han
The Benevolence of Yib
How Ghuth Would Have Hunted the Silth
The Thievery of Yish
How Her Doom Came Down at Last on Adrazoon
How Jal Set Forth on his Journeying
The Gods of Neol Shendis
How Shand Became King of Thieves - with Robert M. Price
Caolin the Conjurer (Or, Dzimdazoul) - with Glynn Owen Barrass
Also contains an afterword by Robert M. Price and short fiction by Darrell Schweitzer, Gary Myers, Adrian Cole, Charles Garofalo and Robert M. Price written in tribute to Lin Carter and Simrana, along with some of the short stories of Lord Dunsany and Henry Kuttner that inspired him to write the Simarana stories.

Publisher's Blurb – Lower Cover
Lin Carter, enthralled by the "Dreamland" tales of Lord Dunsany and others, contributed to the growing genre with a series of his own stories, dubbed "The Simrana Tales".

As Carter himself commented in his afterword to Lord Dunsany's

Beyond the Fields We Know (Ballantine), "The most Dunsanian of my fiction is the Simrana series . . . the name was coined many years ago and lay in my notebooks awaiting the right kind of story to occur to me." A complete collection of his Simrana tales could hardly be called complete without including the stories that inspired him to write them in the first place: Lord Dunsany's masterpieces of fantasy.

This first edition of the complete Simrana Cycle is accompanied by outstanding stories in the genre including Dunsany's own "The Sword of Welleran" and others; Henry Kuttner's 1937

Weird Tales gem "The Jest of Droom-avista", and new stories by masters of the genre, as well as a series of six ink drawings by Roy G. Krenkel, originally done for the publication of Carter's "The Gods of Neol Shendis" in AMRA No. 41.

The fantastic tales of Dunsany and his compatriots were snapped up by avid readers of

Weird Tales over half a century ago, taking root in the imaginations of authors and artists who continue to craft new myths and tales today.

Here's your invitation to a world of fantasy and fable that is as alluring and thriving today as it was in the heyday of

Weird Tales!

The book features a commissioned cover by Stephen Hickman, master of delicate and colorful fantasies.

Publisher's Blurb – Front Jacket Flap
Lin Carter (June 9, 1930--February 7, 1988), though a skinny youngster, proved his mettle as an infantryman in the Korean War. Subsequently he continued the fight against the evil hordes on the printed page. After the war he worked as a copywriter, using his spare time writing the sort of fantastic literature that stimulated his imagination as a youth. His novel The Wizard of Lemuria (Ace Books, 1965) launched his writing career, which he pursued full-time as of 1969. He loved his favorite authors so much, he was content to devote his own writing to continuing their legacies, contributing numerous series of novels pastiching Robert E. Howard, Clark Ashton Smith, H.P. Lovecraft, Lord Dunsany, and others. His tales of Simrana form his pseudo-Dunsanian canon. He also brought several volumes of Dunsany's fiction to a new generation of readers in his acclaimed Ballantine Adult Fantasy Series.

Publisher's Blurb – Rear Jacket Flap
Robert M. Price, a fan of H.P. Lovecraft since the Lancer paperback collections of 1967 appeared, began writing scholarly articles and humorous pieces on HPL and the Cthulhu Mythos in 1980. His celebrated semi-prozine Crypt of Cthulhu began as a quarterly fanzine for the Esoteric Order of Dagon Amateur Press Association in 1981 and made it to 107 issues before recently making an apocalyptic return. Contributors have included most of the stars of Lovecraft scholarship such as S.T. Joshi, David C. Schultz, and Donald R. Burleson, as well as renowned Cthulhu Mythos writers such as Brian Lumley, Lin Carter, and Ramsey Campbell. In 1990 Price began editing Mythos fiction anthologies for Fedogan & Bremer and Chaosium, Inc. His own fiction has been collected in Blasphemies and Revelations from Mythos Books. Price has continued the adventures of Carter's Sword-&-Sorcery hero Thongor of Lemuria, as well as those of Carter's occult detective Anton Zarnack.
If you are looking for new, secondhand or out-of-print books then AbeBooks UK may be able to help.
Alternatively, you can search and order through AbeBooks.com.