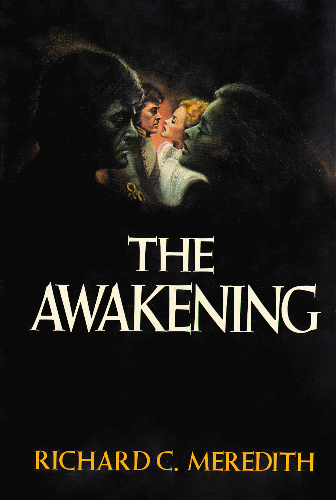 First Edition, First Printing 1979
St. Martin's Press
New York
ISBN 0312062605
Hardback in dust jacket


Cover illustration by Joel Iskowitz


xii, 300 pages
Price: $10.95

Notes
The Awakening, a novel by Richard C. Meredith.

According to Issue 223 of Locus, the book was published in June 1979.

Dedication
To my parents, Mr. and Mrs. J. T. Meredth, because . . .

Blurb – Back Cover
A novel about life and death and that thin, uneasy line that sometimes lies between the two, about fear of the dark and things we cannot see – and most of all, a haunting tale.

Blurb – Jacket Flaps
Past and present mingle, conscious and subconscious memory intertwine in this impressive work of the imagination. Described by the author as an "old-fashioned ghost story", The Awakening explores with chilling subtlety the theme of the uneasy dead seeking peace – a fear which must go back into our paleolithic subconsciousness.

It's hoped that a few month's rest at the rundown farmhouse, Aaron's Rock, will help heal Ray Albright of the effects of a horrendous car accident: a badly broken back, terrible guilt at the death of his passengers, and the swift comprehension of how little separates the living from the dead. But the farm is not the expected idyllic refuge, for Ray's daytime sketching is disturbed by ghastly moans from a thicket close by, his sleep by sounds downstairs of a wounded man's crawling silenced by an explosion, and his peace of mind by visions of his absent wife in the arms of another man. And he is visited by a recurrent dream, each night a little longer and more real: a band of exhausted men in tattered gray uniforms comes forward in the dawn light, but then turns again wearily to face enemy fire.

Only gradually, and with the help of a lovely and willing neighbour, does Ray come across the story of the Civil War tragedy which killed off the first owners of Aaron's Rock and whose ghosts are said to haunt the house. And only at the very end does he understand his own soul to be hostage to these ghostly players seeking release from torment.

In this spellbinding novel Richard Meredith makes use of a lifetime spent in the deep South, in towns which, like Aaron's Rock, cannot bury their unfinished past. He now lives in Milton, Florida, with his wife and children.
If you are looking for new, secondhand or out-of-print books then AbeBooks UK may be able to help.
Alternatively, you can search and order through AbeBooks.com.