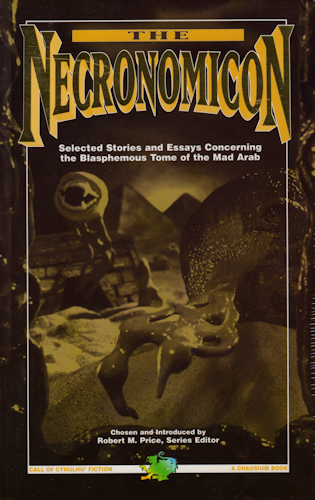 Edited by Robert M. Price
First Edition 1996
Chaosium Inc.
Oakland, California
ISBN 1568820704
Trade paperback
Cover illustration by Harry Fassl
Interior illustrations by Earl Geier
xviii+334 pages
Price: $10.95

Notes
The Necronomicon, a collection of Cthulhu Mythos short fiction by Lin Carter and others.

The following are by Lin Carter unless noted otherwise:
The Figure in the Flying Carpet - a foreword by Robert M. Price
Introitus (The Necronomicon: The Dee Translation)
The Book of Episodes

The Doom of Yakthoob
The Thing Under Memphis
In the City of Pillars
The Vault Beneath the Mosque

Carter did not write the fifth story. This was to be The Ghoul by Clark Ashton Smith - see extract from the introduction below.

Mnomquah
The Madness Out of Time
Dreams of the Black Lotus
The Shadow from the Stars

The Book of Preparations

Of the Powers of the Sorcerer
Of That Which Is Needful to Sorcery
Of the Old Ones and the Favors They Bestow
Of the Times and Seasons to Be Observed
Of the Powers of the Moon
Concerning Them from Outside
The Punishment of the Old Ones
Of That Which Is Foretold of Their Return
The Liers-in-Wait

The Book of the Gates

Of the Worlds Beyond This World, and the Modes of Travel
Of Foul Necromancy
The Peril That Lurketh Beyond Time
Those That Aid the Unnamable Devourers
Of Tindalos, and the Hounds Thereof
If Thou Wouldst Raise the Dead
To Send Back Down That Which Thou Hast Called Up
Of the Signs of Hnaa
Of the Dream-Gates
Of Koth, and the Sign of Koth
The Ritual of the Silver Key
'Umr At-Tawil
Of Opening the Door to Yog-Sothoth
The Ninth Verse that Summoneth Yog-Sothoth
Of Them from Outside and Their Spawn
Somewhat of the Gates That Open to Beyond
Of Leng and the Mysteries Thereof
Of the Coming-Hence of the Old Ones
The Openers of the Way

The Book of Dismissals

Of Calling Up That Which Thou Canst Not Put Down
Of the Several Modes to Enforce the Dismissal
Of Ib, and the Vengeance Thereof
Of the Five-Pointed Star Carven of Grey Stone
Also contains short fiction by Robert M. Price, Manly Wade Wellman, Martin D. Brown, Henry Dockweiller, Robert A.W. Lowndes, Frederik Pohl, Richard L. Tierney, Robert Silverberg, Steffan B. Aletti, John Brunner, Fred Chappell, L. Sprague de Camp, Frank Belknap Long, Fred L. Pelton, D.R. Smith, H.P. Lovecraft, David T. St. Albans and David Pudelwitts.
If you are looking for new, secondhand or out-of-print books then AbeBooks UK may be able to help.
Alternatively, you can search and order through AbeBooks.com.