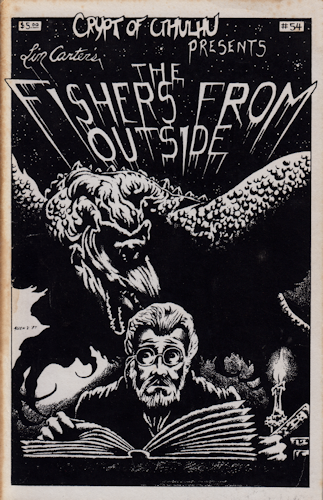 Vol.7, No.4, Issue #54, Eastertide 1988
Cryptic Publications
Mount Olive
ISBN: None
Fanzine/Magazine


Cover illustration by Allen Koszowski


60 pages - Covers not included in pagination
Price: $5.00

Notes
A memorial issue of Crypt of Cthulhu dedicated to short fiction by Lin Carter.

Includes:
Strange Manuscript Found in the Vermont Woods
The Secret in the Parchment
From the Archives of the Moon
Dead of Night
The Shadow from the Stars
How Ghuth Would Have Hunted the Silth
The Fishers from Outside
Papyrus of the Dark Wisdom - with Clark Ashton Smith
The Slitherer from the Slime - with Dave Foley (as H.P. Lowcraft) - first published in Inside SF (September 1958)
Also includes:
Lin Carter: June 9, 1930 - February 7, 1988 - an obituary of LC by Robert M. Price
Obituary – Lower Cover
Lin Carter
June 9, 1930 - February 7, 1988

Lin Carter died, apparently, of respiratory problems and cardiac arrest on the afternoon of February 7, 1988. His health had been deteriorating since early 1985 when he underwent surgery for the removal of facial cancer.

As an unathletic lad in Florida, Lin early on discovered the literary world of fantasy, first in the Oz books and The Wind in the Willows. At age twelve he discovered Edgar Rice Burroughs and began collecting secondhand copies of Weird Tales, Doc Savage, Planet Stories, etc. At seventeen he began contributing to fanzines, an involvement that continued throughout his life.

Years later he began to devour the classics of world literature, ancient, medieval, and modern. He used to boast, "I've read everything," and he had. Lin was the perfect person to edit the famous Adult Fantasy Series for Ballantine Books, which brought back into print many neglected, forgotten, or even unknown classics. He also edited DAW's Year's Best Fantasy Stories, Doubleday's and Dell's Flashing Swords series. Zebra's Weird Tales, and Dell's Bran Mak Morn and Paperback Library's Jirel of Joiry collections.

But of course Lin Carter was first and foremost a writer of fiction. He produced sixty-one published novels and over fifty short stories. He collaborated with L. Sprague de Camp on five volumes of Conan pastiches and completed several unfinished Howard drafts. He once reflected, "I am generally thought of, I suppose, as a modern Edgar Rice Burroughs: an author of wholesome, exciting action stories for boys." Indeed he was. The influence of Burroughs, along with Robert E. Howard, was clear in his Thongor series (commencing with The Wizard of Lemuria in 1965). His later Green Star, Callisto, and Zanthodon series were pure Burroughs pastiches. His fiction was always imaginative even if not always wholly original. Perhaps his Howard-Burroughs pastiches were his best, his Clark Ashton Smith pastiches his worst.

Lin was also a poet. He himself published three of his verse collections when in his twenties, and Arkham House published his Dreams from R'lyeh in 1975. He enjoyed publishing his own fanzines, too, including Spaceteer, while in high school, and Spectrum in the early 60s. One issue of his Kadath appeared in 1979, and he had hoped to publish Yoh-Vombis but never found the time or money to do it right.

Lin left several projects unfinished, including his huge Tolkien-like Khymyrium, his versions of the Necronomicon and The Book of Eibon, an epic poem on Alexander the Great, a history of the Order of the Golden Dawn, a new Prince Zarkon novel, The Moon Menace, a detective novel, and a Star Pirate novella called "Beyond the Worlds We Know". Unpublished early novellas include "The Curse of the Black Pharaoh".

Lin Carter was no saint and would have dreaded having the reputation of one. He did not much try to control his many passions and was not above cutting corners here and there, which earned him the anger of many. Yet many of us who knew him can fondly testify to his loving generosity, kind geniality, and eternal childlikeness. Perhaps Lin Carter's best epitaph might be these lines from one of his own poems:

"I faced Life boldly and unafraid --
Should I flinch as Death draws near?
Life's but a game Death and I have played
Many a wearisome year:
Hail to the gallant friends I made --
Slave and swordsman and lissom maid!--
I begrudge no foot of the road I strayed--
The road which endeth . . . here."

--"Death Song of Conan the Cimmerian"
If you are looking for new, secondhand or out-of-print books then AbeBooks UK may be able to help.
Alternatively, you can search and order through AbeBooks.com.