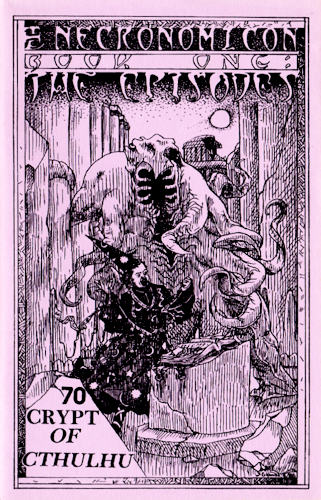 Vol.9, No.3, Issue #70, Candlemas 1990
Cryptic Publications
Upper Montclair
ISBN: None
Fanzine/Magazine


Cover illustration by Jason C. Eckhardt


ii+70 pages
Price: $4.50

Notes
An issue of Crypt of Cthulhu dedicated to short fiction by Lin Carter.

Includes:
The Necronomicon, Book I: The Book of Episodes - Parts 1-4 and 6-9*
The Necronomicon, Book II: The Book of Preparations
The Necronomicon, Book III: The Book of the Gates
The Necronomicon, Book IV: The Book of Dismissals
Carter did not write the fifth part of The Book of Episodes. This was to be The Ghoul by Clark Ashton Smith.

Editorial – Page 2
Debatable and Disturbing: Editoral Shards

Over the years Cryptic Publications has lifted the veil to provide occasional glimpses of the Necronomicon as Lin Carter conceived and began to write it. Under our Charnel House imprint, which Lin Carter himself founded, we even published as much as he had written of the First Book, The Episodes or Narratives. That booklet was so well received that it immediately went out of print. This 70th issue of Crypt of Cthulhu brings you, at last, as much of the Carter Necronomicon as survives in his notes.

Lin said that hundreds of pages of ritual matter were lost and that he had therefore given up the project. The present text, then, is not complete. It does not even run continuously since the pagination in the manuscript implies missing sections. But what you hold in your hands might be considered Loin Carter's version of the kind of Necronomicon Lovecraft once toyed with writing -- an abridged version with the more dangerous parts cut out, yet with enough shuddersome material to convey the fearsome flavor of the whole.

As you will see, we have re-printed the Episodes as well, so here you have the "complete" Lin Carter Necronomicon.

Robert M. Price, Editor
If you are looking for new, secondhand or out-of-print books then AbeBooks UK may be able to help.
Alternatively, you can search and order through AbeBooks.com.