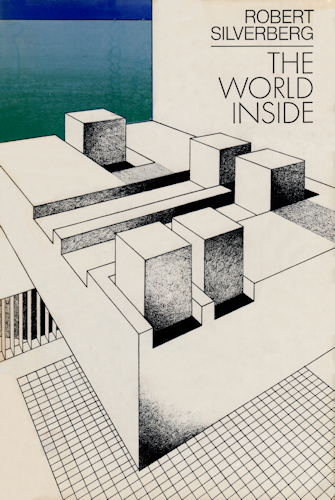 First Edition 1971
Doubleday
New York
ISBN: N/A
Hardback in dust jacket


Cover illustration by James Starrett


204 pages
Price: $4.95

Notes
The World Inside, a standalone novel by Robert Silverberg.

A fixup novel based on a series of short stories:
A Happy Day in 2381 (Nova 1, ed. Harry Harrison, 1970)
In the Beginning (Science Against Man, ed. Anthony Cheetham, 1970)
All the Way Up, All the Way Down (Galaxy, July-August 1971)
The Throwbacks (Galaxy, July 1970)
We Are Well Organized (Galaxy, December 1970)
The World Outside (Galaxy, October-November 1970)
Publisher's Blurb – Jacket Flaps
2381. Man had attained Utopia. War, starvation, crime and birth control had been eliminated. Life was totally fulfilled and sustained within mammoth skyscrapers hundreds of floors high. It was blessed to have children. Contemplation of controlling families was heretical. And there were methods of treatment for heresy, the most radical, being death. And there was total sexual freedom. "Night walking" was expected of men and women never refused. Only madness could inspire thoughts of privacy, faithfulness and trust. Since the need for the outdoors and travel had been eliminated, then surely so had the desire. Thoughts of wanderlust were sick, to speak of it was heretical. And there were methods of treatment for heresy. But life was a Utopia!

There were a few in Urbmon 116 who

were tortured by desire for some individual quality to their lives. The perfectly patterned existence of the Urbmons seemed flawed. Young Siegmund Kluver was destined to become one of the omnipotent leaders of Urbmon 116. Yet he finds himself assailed by a nameless doubt and fear. He searches throughout the vast complex of the Urbmon for some clue to his restless nature, knowing his whole future may be in jeopardy.

Jason Quevedo, an historian, discovers ancient history acts as a catalyst to revealing his true character -- but the price demanded for such knowledge is a cruel one.

And

Michael Statler escapes the confines of Urbmon 116 only to learn that the freedom of soul and spirit create their own prisons.

Robert Silverberg has fashioned a science fiction novel which takes one of the world's most pressing problems and projects it to a fantastic, but frightening conclusion. He also poses the great rhetorical question -- is the gift of life more precious than the quality of the individual?

Robert Silverberg, a graduate of Columbia University, is the author of numerous non-fiction works as well as being a prolific science fiction author. His recent books include

To Live Again and Parsecs and Parables. He is a Hugo winner and a past president of the Science Fiction Writers of America. Mr. Silverberg and his wife live in New York.
If you are looking for new, secondhand or out-of-print books then AbeBooks UK may be able to help.
Alternatively, you can search and order through AbeBooks.com.