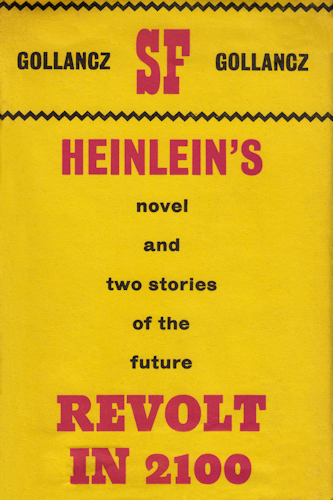 First Edition 1953
Shasta Publishers
Chicago
ISBN: N/A
Hardback in dust jacket


Cover illustration by Hubert Rogers


318 pages
Price: $3.50

Notes
Revolt in 2100, a collection of Future History fiction by Robert A. Heinlein.
"If This Goes On..." [Revised and expanded version]
Coventry
Misfit
Also includes Concerning Stories Never Written, an essay by RAH that includes a Future History timeline chart. [Not included in British editions.]

The image opposite and the blurb below are from the 1964 Victor Gollancz hardback edition. This edition does not include the essay.

Publisher's Blurb – Jacket Flaps
We have already published Orphans of the Sky and Methuselah's Children—the last two books in Heinlein's remarkable five-volume imaginative History of the Future. Their reception more than came up to our expectations: "His imaginative mind at its best", "A 'classic' and should be on every shelf", "I enjoyed every light-year of it" were typical of the press they received. We now add a further volume, Revolt in 2100, the third in the series and another classic from Heinlein's golden period. Besides one of his best novels, "If This Goes On—", the volume also contains two exciting stories, Coventry and Misfit.

"If This Goes On—". The year is 2100 and America is ruled by a corrupt and despotic religious dictator. He maintains his rule through clever use of advanced psychological techniques and a dedicated military clique. But under the surface rebellion is simmering. Freedom of thought and the pursuit of knowledge have been denied, and a steadily growing band of men realise that it is time for a change. At the dictator's temple in New Jerusalem, Legate John Lyle is an officer of the guard. His life is a severe, monastic existence, and when temptation comes his way he is unable to cope with it. He forms an attachment with one of the temple virgins. This illegal act leads, in an ever quickening succession, to membership in the underground Cabal, to capture, to escape, to flight. Finally he reaches the underground headquarters where he watches the revolution come to fruition.

Coventry takes place after the revolution. The new system of government, The Covenant, allows complete freedom to the individual, provided it does not impinge on the freedom of any other person. Those guilty of breaking the Covenant are offered two choices: either brain surgery or expulsion to Coventry, an area of country behind a Barrier which can only be penetrated from the outside. David MacKinnon chooses to go to Coventry. He thought that it would be a place where no laws would interfere with his desires and with the way he wanted to live. But he was in for a shock!

Misfit introduces the mathematical genius, Libby. He is a young man with little formal education but an inherent ability to visualise mathematical relationships. His exceptional gift proves invaluable to the commander of a space ship when the electronic computer breaks down.

Of Robert Heinlein, the

New York Herald Tribune has written: "No one else even comes close to him in consistently and successfully fusing scientific thinking with fictional form". Revolt in 2100 shows this great master of invention at his very best.
If you are looking for new, secondhand or out-of-print books then AbeBooks UK may be able to help.
Alternatively, you can search and order through AbeBooks.com.