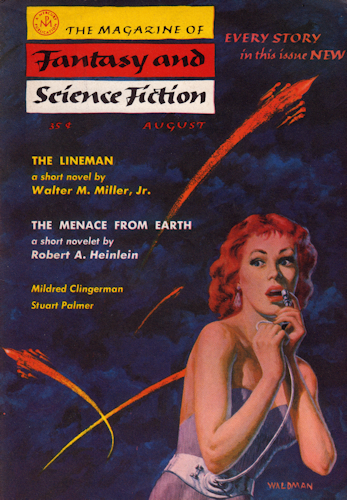 published in:

Edited by Anthony Boucher.
August 1957 - Vol.13, No.2, #75
Fantasy House
New York
ISBN: N/A
Paperback/Magazine


Cover illustration by Barry Waldman


132 pages
Price: $0.35

Notes
The Menace from Earth, a Future History novelette by Robert A. Heinlein, can be found on pages 109-129.

Reprinted in:
New Worlds Science Fiction (October 1957, No.64)
The Menace from Earth (1959) [RAH collection of the same name]
The Past Through Tomorrow (1967)
The Future History of Robert Heinlein: Volume I (2010)
Introductory Blurb
We began this issue with a grim picture of lunar life, and now round it out with a bright and happy one - obviously belonging to a later period of extraterrestrial colonization. "The major technical problem in writing science fiction," Heinlein has written, "is the extreme difficulty of building up a complex, strange background sufficiently to produce empathy and flavor without letting the stage dressing get in the way of the story." This is why, the author frankly confesses, he rarely writes anything under book-length; but in this one of his very scarce shorter pieces, he brings off the characteristic Heinleinesque feat of telling an entertaining human story while creating a whole other culture and technology. The former features a singularly captivating young heroine; the latter entails (like Malcolm Jameson's neglected classic, Bullard Reflects) the wonderfully detailed realization of a new sport, possible to men only when they have left this planet.
If you are looking for new, secondhand or out-of-print books then AbeBooks UK may be able to help.
Alternatively, you can search and order through AbeBooks.com.