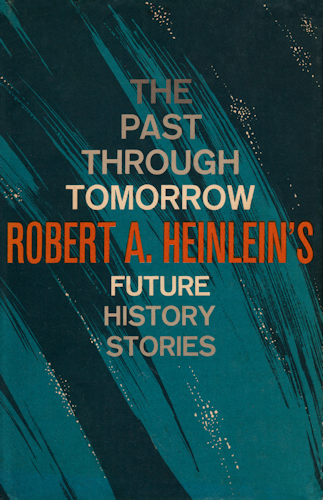 First Edition 1967
Putnam
New York
ISBN: N/A
Hardback in dust jacket


Cover design by Ben Feder


667 pages
Price: $5.95

Notes
The Past Through Tomorrow, a collection of Future History fiction by Robert A. Heinlein.
Life-Line
The Roads Must Roll
Blowups Happen
The Man Who Sold the Moon
Delilah and the Space-Rigger
Space Jockey
Requiem
The Long Watch
Gentlemen, Be Seated
The Black Pits of Luna
"It's Great to Be Back!"
"...We Also Walk Dogs"
Searchlight
Ordeal in Space
The Green Hills of Earth
Logic of Empire
The Menace from Earth
"If This Goes On..." [Revised and expanded version]
Coventry
Misfit
Methuselah's Children [Revised and expanded version]
Also includes a further revised version of the Future History Chart.

Publisher's Blurb – Jacket Flaps
Together in chronological order for the first time - twenty-one short stories, novellas and novels spanning

THE PAST THROUGH TOMORROW:

Robert A. Heinlein's "Future History" Stories

Over a quarter of a century ago, Robert A. Heinlein started to write stories about an imaginary - but highly possible - future. The stories poured forth in abundance and, because Heinlein is a meticulous craftsman who demands accuracy, he compiled a gigantic chart to keep track of his future world and the progress of its denizens.p> Heinlein' s "future history" chart covered one entire wall of his study, and on it were recorded the dates of man's first step on the moon (1978 - see

The Man Who Sold the Moon) . . . the period of Imperial Exploitation (1970-2020 - The Long Watch, The Black Pits of Luna, The Green Hills of Earth, etc.) . . . scientific achievements like weather control and manufacture of synthetic foods (2100 - "If This Goes On...") . . . first attempts at interstellar exploration (2125 - Methuselah's Children) . . . and numerous other milestones, each of which was to be properly depicted in one or more "future history" stories.

In THE PAST THROUGH TOMORROW you'll find a reproduction of Robert Heinlein's master chart, plus twenty-one stories, novellas and novels that tell twenty-one separate and distinctive tales against a common backdrop. And what it all adds up to is a many-sided portrait of tomorrow - or, at least, of a tomorrow - and a bonanza of daring, original adventure by the dean of space-age fiction.

ROBERT A. HEINLEIN has often denied that the stories in this book are prophecy. Yet it is apparent that some of his fictional forecasts have already come true - not literally, but symbolically. The Roads Must Roll predicts urban sprawl, and anticipates the threat of a nation-wide transport strike, for example. As for the still-unfolding future, there are guide-posts and warnings here, snuggled beneath their mantle of drama and entertainment.
If you are looking for new, secondhand or out-of-print books then AbeBooks UK may be able to help.
Alternatively, you can search and order through AbeBooks.com.