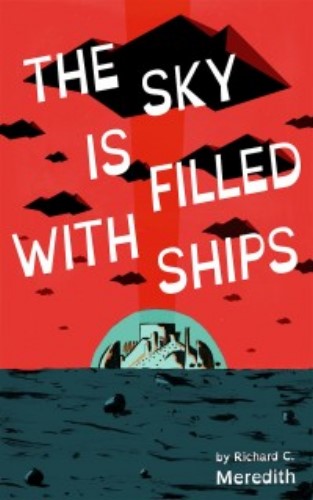 Save the SciFi! Edition 2013
Singularity & Co / Reversity Media
Brooklyn, New York
ISBN 9781938536144
eBook - epub, mobi and pdf formats


Cover illustration by K.L. Ricks


191 pages (pdf format)
Price: $5.99

Notes
The Sky Is Filled With Ships, a novel by Richard C. Meredith.

Published on 9 July 2013.

Dedication
To my wife, Joy

Publisher's Blurb
Singularity & Co's 12 release is the first one we ever tried to do, making it a fitting (and exceptionally good) close to our first year of books.

We're proud to present

The Sky is Filled by Ships, by Richard C. Meredith.

As an employee of the Solar Trading Company, Major Janas had been on an intelligence patrol for ten years, gaining information for Altho Franken, his boss and President of STC.

And it had been worth it. Because Janas was bringing home vital and secret information about the strength of the forces brought together by General Kantralas, leader of the Alliance of Rebels, an alliance that had been formed over a period of forty years and had already had two major battles with the government of the galaxy—Earth's Federation.

The Solar Trading Company had been there to pick up the pieces—and STC was still there, not for the Alliance and not for the Federation, either. STC was still there—to keep civilization going after the governments had battled it out.

The information Janas was carrying was vital to the role STC would need to play in the coming conflict.

And suddenly he found no one would listen…

About the Publisher
Singularity & Co. has a simple mission: to rescue science fiction books for the future. With the guidance of our member-supporters, we select books that might not make it to the future on their own, find the rightsholders, and, with their permission, turn them into high quality ebooks with original cover art by top rate artists who love the genre.

You can learn more about how to join in the effort, and learn more about this book and its author at: www.savethescifi.com

Save the SciFi!
If you are looking for new, secondhand or out-of-print books then AbeBooks UK may be able to help.
Alternatively, you can search and order through AbeBooks.com.