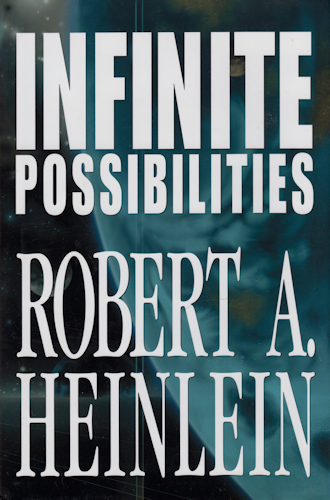 Omnibus Edition 2003
Science Fiction Book Club
New York
ISBN 0739433857
Hardback in dust jacket


Cover illustration by Bruce Jensen


vi+570 pages
Price: $14.99

Notes
Infinite Possibilities, an omnibus of Heinlein juvenile novels.
Tunnel in the Sky (1955)
Time for the Stars (1956)
Citizen of the Galaxy (1957)
Publisher's Blurb – Jacket Flaps
Three astounding journeys from the Master of Science Fiction

Do you miss the days when a writer could tell a fast-paced, complex story in only a couple of hundred pages? Robert A. Heinlein was just such a writer -- his books are concise yet never rushed, richly plotted but never bloated. In the 1950s, he wrote a series of juveniles, exciting, fast-paced adventures for younger readers. Today, they're considered some of his best work, and

Infinite Possibilities collects three of them.

TUNNEL IN THE SKY
It was just supposed to be a test, but something had gone terribly wrong. As part of his high school final exam. Rod Walker and his Advanced Survival class were dropped through a teleportation gate into an unknown location. But what was to have been a standard ten-day field exercise suddenly became an indefinite life-or-death struggle. Now they were stranded who-knew-where in the universe, beyond contact with Earth. Divested of all civilized luxuries and laws, they were forced to forge a future of their own -- a strange future where sometimes not even the fittest could survive.

TIME FOR THE STARS
The space ship Lewis and Clark sought new worlds for overpopulated Earth to colonize. Twins Tom and Pat Barlett shared the grand adventure in an astonishing way. Scientists had learned that thoughts travel infinitely faster than light, and the twins were telepathic. So Pat remained on Earth, growing up and growing old. while Tom made a 70-year voyage to the stars. But as the pioneer torchship discovered strange yet seemingly habitable new planets at Tau Ceti and Deneb Kaitos, the mental messages Tom sent back spoke of danger . . . and disaster.

CITIZEN Of THE GALAXY
The boy called Thorby had been taken from his parents and sold into slavery at a very young age. Since then, his life had been a jumbled collection of cruel masters on planets across the Terran Hegemony, but his new owner was different. With the beggar, Thorby found kindness and hope, not just for safety but for freedom. Baslim the Cripple was more than he seemed, and he taught the boy a message that would take him back to the stars. But Thorby's true identity would stay secret through his adventures with an odd society of traders, until service as a Guardsman of the Terran Hegemony brought him at last to his long-lost homeworld . . . and his destiny.

ROBERT A. HEINLEIN

born in Butler, Missouri 1907, died 1988
retired due to ill health from U.S. Naval Academy at Annapolis in 1934
studied physics at UCLA
began publishing SF in 1939
published first SF novel,
Rocket Ship Galileo, in 1947
was guest commentator for the Apollo 11 lunar landing
won 4 Hugo Awards for Best Novel
was named the first SFWA Grand Master in 1975
is considered one of SF's all-time most influential writers, along with Isaac Asimov and Arthur C. Clarke
If you are looking for new, secondhand or out-of-print books then AbeBooks UK may be able to help.
Alternatively, you can search and order through AbeBooks.com.