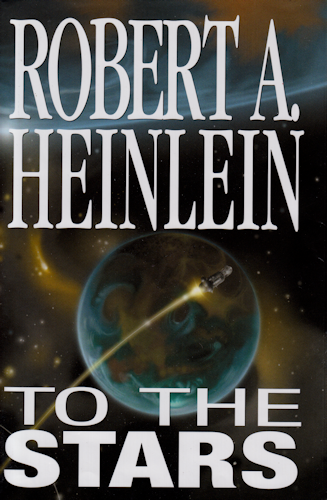 Omnibus Edition 2004
Science Fiction Book Club
New York
ISBN 0739442600
Hardback in dust jacket


Cover illustration by Bruce Jensen


vi+730 pages
Price: $14.99

Notes
To The Stars, an omnibus of Heinlein juvenile novels.
Between Planets (1951)
The Rolling Stones (1952)
Starman Jones (1953)
The Star Beast (1954)
Publisher's Blurb – Front Jacket Flap
TO THE STARS

Robert A. Heinlein, who in 1974 was named the first SFWA Grand Master, packed his early space adventures with plucky young heroes, rough-and-ready action and sense-of-wonder, helping to shape the genre as we know it today. Following up on

Infinite Possibilities, the SFBC is delighted to bring you another collection of Heinlein classics--originally published for young readers of the '50s, but great fun for us all.

Between Planets
The son of two scientists studying on Mars, Don Harvey is attending school on Earth when he receives a message calling him home. It seems simple enough, but getting to Mars--a planet he's never set foot on--turns out to be a lot more complicated than he expects. Especially when secret police inexplicably hound his every step. And most especially when his flight is hijacked by Venerian rebels. Before he knows it, young Harvey is caught up in a deadly war between planets. . . .

The Rolling Stones
The Stones are not your ordinary Lunar family, and the Stone twins--Castor and Pollux--are not your average teenage boys. Born mechanics and wheeler-dealers, all they want is to leave the Moon in a secondhand spaceship and make their fortunes out in the solar system. They don't count on their high-spirited family going along--and what begins as a simple business expedition soon detours into danger. . . .

Starman Jones
Growing up on a poor man's farm, Max dreams of becoming a spaceman, but it's not so easy for a smart lad with no connections . . . until he meets a scam artist who wangles their way aboard a starship. Still, it's one thing to pretend to be a crewman and quite another to actually be one . . . especially when the ship gets lost and lands on a hostile planet--and Max is the only one who can get them home again. . . .

The Star Beast
Pets are supposed to lower your blood pressure, but when your best friend is an alien cross between a rhino and a triceratops, anything can happen. Just ask John Stuart and his lovable Lummox--an 8-legged beast with the intelligence of a tame dog and the appetite of a car compactor. Now an unexplained foray into the surrounding countryside has put Lummox and John in hot water--just as some mysterious space voyagers turn up, ready to embroil them both in an interplanetary crisis!
If you are looking for new, secondhand or out-of-print books then AbeBooks UK may be able to help.
Alternatively, you can search and order through AbeBooks.com.