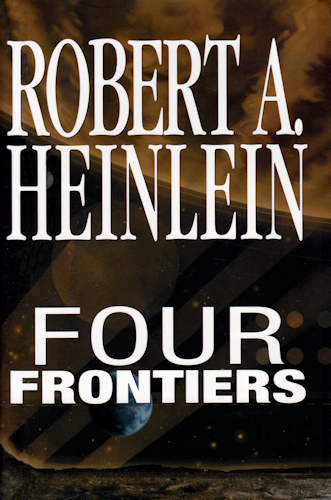 Omnibus Edition 2005
Science Fiction Book Club
New York
ISBN 0739453459
Hardback in dust jacket


Cover illustration by Bruce Jensen


vi+714 pages
Price: $14.99

Notes
Four Frontiers, an omnibus of Heinlein juvenile novels.
Rocket Ship Galileo (1947)
Space Cadet (1948)
Red Planet (1949)
Farmer in the Sky (1950)
Publisher's Blurb – Front Jacket Flap
THEY WANTED SPACE....

ROBERT A. HEINLEIN
FOUR FRONTIERS

Robert A. Heinlein was one of the creators of modem science fiction, as the Science Fiction Writers of America acknowledged in 1974 by naming him their first Grand Master. In addition to his brilliant and innovative work for adults, he wrote a series of juveniles that sparked a love of science fiction in countless youngsters and which, with their exuberant young heroes and fast-paced adventure, remain great fun for all of us. The Science Fiction Book Club is delighted to present the first four novels in the series.

Three young men do what we all wanted to - they build

Rocket Ship Galileo and fly it to the moon. Of course it's not so simple: there are rivals and red tape to overcome, and a totally unexpected - and possibly lethal - surprise waiting for them when they get there.

Matt Dodson has heroic dreams of joining the Space Patrol, so he becomes a

Space Cadet and embarks on the long and difficult training that will show if he can do the job. His mettle is tested to the utmost when, on his first training flight, he finds himself in the midst of an interplanetary crisis.

Jim Marlowe grew up on the

Red Planet, and when he's sent off to boarding school at Syrtis Major, he insists on taking his Martian pet with him. He doesn't anticipate how much trouble friendly little Willis will get him into - and how paradoxically lucky that will turn out to be.

Bill Lermer can't wait to leave an overcrowded Earth and become a

Farmer in the Sky on Ganymede. He thinks he's ready for hard work and hardship - but he has no idea what it will mean when things go wrong and the nearest help is four hundred million miles away!

ABOUT THE AUTHOR
Robert Anson Heinlein was born in Butler, Missouri, in 1907. A graduate of the U.S. Naval Academy, he was retired, disabled, in 1934. He studied mathematics and physics at the graduate school of the University of California and owned a silver mine before beginning to write science fiction in 1939. In 1947 his first book of fiction, ROCKET SHIP GALILEO, was published. His novels include DOUBLE STAR (1956), STARSHIP TROOPERS (1959), STRANGER IN A STRANGE LAND (1961) and THE MOON IS A HARSH MISTRESS (1966), all winners of the Hugo Award. Heinlein was guest commentator for the Apollo 11 first lunar landing. In 1975 he received the Grand Master Nebula Award for lifetime achievement. Mr. Heinlein died in 1988.
If you are looking for new, secondhand or out-of-print books then AbeBooks UK may be able to help.
Alternatively, you can search and order through AbeBooks.com.