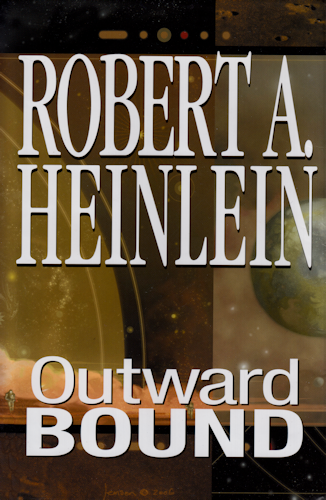 Omnibus Edition 2006
Science Fiction Book Club
New York
ISBN 073946891X
Hardback in dust jacket


Cover illustration by Bruce Jensen


vi+586 pages
Price: $14.99

Notes
Outward Bound, an omnibus of Heinlein juvenile novels.
Have Space Suit - Will Travel (1958)
Starship Troopers (1959)
Podkayne of Mars (1963)
Publisher's Blurb – Front Jacket Flap
OUTWARD BOUND

You may have cut your teeth on stories by Robert A. Heinlein, or you may be new to this Grand Master's fiction. Whatever your degree of familiarity with his work, we hope you'll join us in welcoming

Outward Bound, a new omnibus of Robert A. Heinlein classics featuring three of his best-loved juveniles, including the Hugo Award winner Starship Trooper.

Have Spacesuit--Will Travel
Kip wants to go to the Moon--badly. But the high school senior is barely qualified to go to college let alone the moon. Everything about him is average; his only claim to fame is that he won a contest and now owns an obsolete but fully equipped space suit. One day, he's walking around his back yard testing it out, when a voice comes over the talkie--and the next thing he knows, he's onboard a spaceship heading for the very place he dreams about. But this is no dream. For Kip has been captured by a race of monstrous yet highly advanced aliens who see humans as untrained animals . . . and a good source.

Starship Troopers
In a far future where military service is voluntary, even discouraged, there is of course a catch: enlist or forfeit full citizenship. Basic training is made particularly harsh so that only those of the highest character will survive. But the logic of this escapes Johnnie Rico, an ordinary kid from a wealthy family. Thinking he's joining a peacetime army, the 18-year-old signs up on a whim and becomes a soldier in the Mobile Infantry--where his sergeant tells him, "We'll make a man of you--or kill you trying." To Johnnie's surprise, he gets through the toughest boot camp in the Universe . . . just in time to be sent into battle against mankind's most terrifying enemy.

Podkayne of Mars
Podkayne Fries is a thoroughly modern young Marswoman with a timetable for success based on one goal--to be the first female starship captain--and she has her strategy all mapped out. So when she gets a chance to travel to Earth with her Uncle Tom, a distinguished elder statesman, Poddy jumps at it . . . despite the fact that her obnoxiously brilliant kid brother, Clark, is coming along as well. What Poddy doesn't realize is that her uncle is the official Ambassador Plenipotentiary from Mars to the Three-Planets Conference--and that certain parties will stop at nothing to gain control of his vote. Features both the first published ending and Heinlein's original ending.
If you are looking for new, secondhand or out-of-print books then AbeBooks UK may be able to help.
Alternatively, you can search and order through AbeBooks.com.