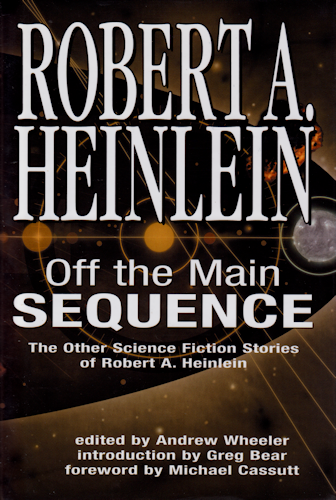 Edited by Andrew Wheeler
First Edition 2005
Science Fiction Book Club
New York
ISBN 1582881847
Hardback in dust jacket


Cover illustration by Bruce Jensen


xxiv+744 pages
Price: $15.99

Notes
Off the Main Sequence, a collection of short fiction by Robert A. Heinlein.
Successful Operation
"Let There Be Light"
"...And He Built a Crooked House"
Beyond Doubt (with Elma Wentz)
They
Solution Unsatisfactory
Universe
Elsewhen
Common Sense
By His Bootstraps
Lost Legacy
"My Object All Sublime"
Goldfish Bowl
Pied Piper
Free Men
On the Slopes of Vesuvius
Columbus Was a Dope
Jerry Was a Man
Water Is for Washing
Nothing Ever Happens on the Moon
Gulf
Destination Moon
The Year of the Jackpot
Project Nightmare
Sky Lift
A Tenderfoot in Space
"All You Zombies..."
Publisher's Blurb – Jacket Flaps
Future Fantastic. Super Science Stories. Astounding Science Fiction. Astonishing Stories. Unknown. In science fiction's pulp fiction heyday, roughly from 1938 to 1950, magazines with these names gave voice to the dreams of youthful writers, many of whom would become the foundation stones of the genre. Of these, Robert A. Heinlein is undoubtedly the greatest.

Famous for his young adult space adventures and the vigorous character-based novels that altered the genre forever, Heinlein also published tales (often under pseudonyms) outside of his Future History series.

Off the Main Sequence, an SFBC member exclusive, collects all 27 of these stories, published from 1940 through 1959.

Here are smart, savvy tales of space adventure, time travel, weird science, mysterious phenomena, apocalypse and dystopia -- tales that reflect the concerns of their day, yet eerily foreshadow our own. There's

Successful Operation, a Twilight Zone-ish gem in which a dictator gets his just desserts . . . "Let There Be Light", about two inventors who triumph over political corruption . . . and On the Slopes of Vesuvius, in which a Bomb-fearing barkeep sees his worst fears realized. And He Built A Crooked House– tells of an architect whose innovative home design leads straight into a funhouse fourth dimension. Solution Unsatisfactory gives us a chilling alternate end to WWII, while –All You Zombies– paints a time-twisty picture of the ultimate causality paradox. All these and more, including three previously uncollected stories, Beyond Doubt, "My Object All Sublime" and Pied Piper, display Heinlein's creative genius to full extent.

With introductions by Greg Bear and Michael Cassutt,

Off the Main Sequence gathers these wonderful stories together for the first time in one volume -- and they're as fun to read now as when they were first published.
If you are looking for new, secondhand or out-of-print books then AbeBooks UK may be able to help.
Alternatively, you can search and order through AbeBooks.com.