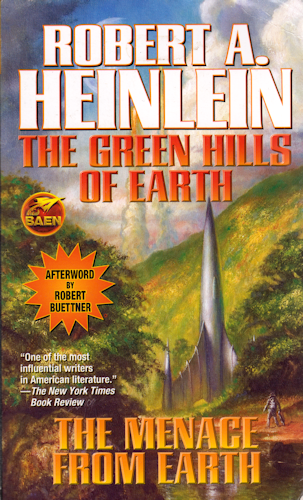 Omnibus Edition 2010
Baen
Riverdale
ISBN 9781439133415
Trade paperback


Cover illustration by Bob Eggleton


x+446 pages
Price: $12.00

Notes
The Green Hills of Earth / The Menace from Earth, an omnibus edition bringing together two collections of short fiction by Robert A. Heinlein:
The Green Hills of Earth (1951)

Delilah and the Space-Rigger
Space Jockey
The Long Watch
Gentlemen, Be Seated
The Black Pits of Luna
"It's Great to Be Back!"
"...We Also Walk Dogs"
Ordeal in Space
The Green Hills of Earth
Logic of Empire

The Menace from Earth (1959)

The Year of the Jackpot
By His Bootstraps
Columbus Was a Dope
The Menace from Earth
Sky Lift
Goldfish Bowl
Project Nightmare
Water Is for Washing
The image opposite and the blurb below are from the 2011 Baen Books paperback edition, ISBN 9781439134368. Cover illustration by Bob Eggleton.

Publisher's Blurb – Lower Cover
TWO OF THE GRAND MASTER'S FINEST

From the saga of the opening of the space frontier as courageous men and women risk their lives to build the first space station and colonize the Moon and Venus... to a mysterious region on Earth, where a more advanced life form may be studying the interesting creatures called "humans".

From the brave explorers who probe the farthest reaches of space while praying for one last landing on the globe that gave them birth, on

The Green Hills of Earth... to the first Moon colony, where a young girl's relationship with her boyfriend is endangered by a beautiful visitor, The Menace from Earth.

Classic Heinlein in a generously large and varied compendium.

Praise for Robert A. Heinlein:

"If there is any single author who defines science fiction, it is Robert Heinlein... there is no other writer whose work has exhilarated me as often and to such an extent as Heinlein."
—Dean Koontz

"Heinlein knows more about blending provocative scientific thinking with strong human stories than any dozen other contemporary science fiction writers."


—Chicago Sun-Times
If you are looking for new, secondhand or out-of-print books then AbeBooks UK may be able to help.
Alternatively, you can search and order through AbeBooks.com.