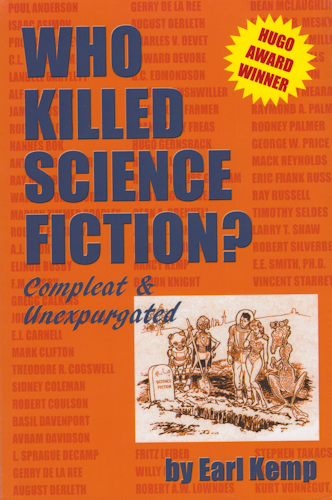 published in:

Edited by Earl Kemp
SaFari Annual #1, 1960
Earl Kemp
Chicago
ISBN: N/A
Fanzine


Cover illustration by Ed Emshwiller


Number of pages unknown
Price unknown

Notes
Limited edition of 125 copies.

Anonymous #1, an anonymous essay by Robert A. Heinlein discussing the then current state of science fiction, can be found on pages 15-16.

Reprinted in The Nonfiction of Robert Heinlein: Volume I (2011).

The image opposite and the blurb below are from the 2011 "Compleat & Unexpurgated" Merry Blacksmith edition, ISBN 9780615441030. Cover illustration by Ed Emshwiller.

Publisher's Blurb – Lower Cover
"Anybody who announces that he is a science fiction writer is announcing that he is in damn bad company financially and artistically. "
Kurt Vonnegut, Jr.

WHO KILLED SCIENCE FICTION?

In 1960, Earl set forth these questions:

1. Do you feel that magazine science fiction is dead?

2. Do you feel that any single person, action, incident, etc., is responsible for the present situation? If not, what is responsible?

3. What can we do to correct it?

4. Should we look to the original paperback as a point of salvation?

5. What additional remarks, pertinent to the study, would you like to contribute?

Who answered? A panorama of authors and fans from across the history of the field including Ray Bradbury, Howard DeVore, Poul Anderson, Robert Heinlein, Isaac Asimov, Andre Norton, Kurt Vonnegut, John W. Campbell, Horace Gold, Marion Zimmer Bradley, and many more.

Originally published in

SaFari Annual #1 (which was awarded a Hugo in 1961 as Best Fanzine) this is the only official print edition, no updated, compleat, and unexpurgated.
If you are looking for new, secondhand or out-of-print books then AbeBooks UK may be able to help.
Alternatively, you can search and order through AbeBooks.com.