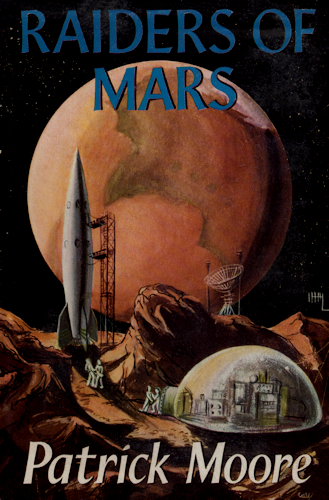 First Edition 1959
Burke Publishing Company
London
ISBN: N/A
Hardback in dust jacket


Cover illustration by Patricia Cullen


160 pages
Price: 8s.6d

Notes
A Maurice Gray novel.

Reprinted in the Junior Pacemaker series in 1964.
Revised edition published in 1974.

Publisher's Blurb – Dust Jacket Flaps
In the twenty years since its founding, the small colony of Mars has known peace and rapid growth. Founded because of the upheaval on Earth and the disastrous Seven Days War which laid waste many of the world's capital cities, the colony of Mars is a sanctuary for many who left Earth to seek peace on Mars.

Little known to the stable government of Mars, plotters are laying plans to overthrow the rulers and replace them with their own form of dictatorship.

David Mellor, Bruce Talbot, and their friends, are faced with the threat of the scientist Yang Cheng. Is he on their side or is he furthering his own ends and playing the plotters off against them?

Cheng is a dangerous man and until he states his intentions the defenders must regard him as an enemy.

Murder and destruction of the colony are planned by the usurpers and the story develops into a gripping account of the plans and counter-plans of both parties.

With rocket ships, helicopters, space suits, and a description of the techniques used to keep the modern city of Lowell Base flourishing on this unfriendly planet, Patrick Moore has once again written a gripping story of Mars and adventures in outer space.

THE AUTHOR
Patrick Moore has been interested in the possibilities of space travel since his boyhood, though his main interests are in the field of pure astronomy.

During the war he served in the Royal Air Force as a bomber navigator, and in more recent years has concentrated on writing. His popular scientific books include

Boys' Book of Space (translated into French and Italian), Guide to the Moon, Guide to the Planets (both originally published some years ago, and now re-issued as paperback editions) and Guide to Mars, a popular survey of what is known about Mars itself.

He is a Fellow of the Royal Astronomical Society, and has been Director of the Mercury and Venus Section of the British Astronomical Association, as well as being associated with many foreign societies.

He is well known to millions on account of his monthly astronomical programme on BBC Television,

The Sky at Night.
If you are looking for new, secondhand or out-of-print books then AbeBooks UK may be able to help.
Alternatively, you can search and order through AbeBooks.com.