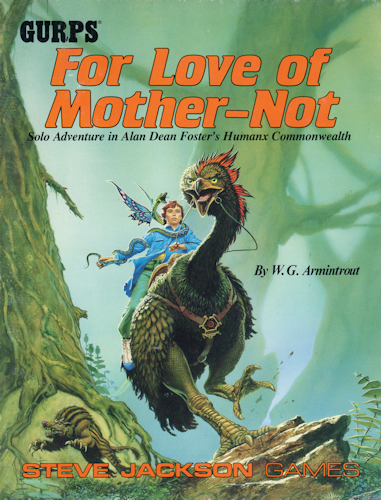 First Edition 1989
Steve Jackson Games
Austin
ISBN 155634144X
Publisher Code: SJG00895
Large format paperback
Cover illustration by Michael Whelan
Interior illustrations by Dan Carroll
64 pages
Price unknown

Notes
A Generic Universal Role-Playing System (GURPS) solo-adventure book.

Based on the Pip and Flinx novel by Alan Dean Foster.

Publisher's Blurb – Lower Cover
A kid's best friend is... an alien pet?

You're an orphan from the streets of Drallar, the capital of a trading world in the star-spanning Humanx Confederacy. Even though your guardian, "Mother" Mastiff, takes good care of you, you've been lonely all your life—that is, until you found an unusual pet in the alley behind your home.
It could be a flying snake...
Or a green-furred, long-eared mammal...
Or a tentacled, walking mushroom...
And your pet—and the new-found psionic abilities he unlocks within you—may be the only things that can help you discover who kidnapped Mother Mastiff!

For Love of Mother-Not is a solo adventure for GURPS the Generic Universal RolePlaying System. It's based on the novel of the same name by Alan Dean Foster, and contains:

A 634-entry solo adventure for Flinx (the hero of the novel), Maliena (an alternate protagonist), or a character of your own design. With

three possible pets, four possible guardians, and many possible alternate paths, you can play For Love of Mother-Not over and over and never have the same adventure twice — or you can recreate the adventures of Flinx and Pip from the novel.

Character stats for Flinx, Maliena and important NPCs.
Additional, optional rules for using psionics in the Commonwealth, and a new psi skill.
Instructions for how to play the solo.

Note: You need the

GURPS Basic Set to play this adventure. The GURPS Humanx worldbook is useful, but not required.
If you are looking for new, secondhand or out-of-print books then AbeBooks UK may be able to help.
Alternatively, you can search and order through AbeBooks.com.