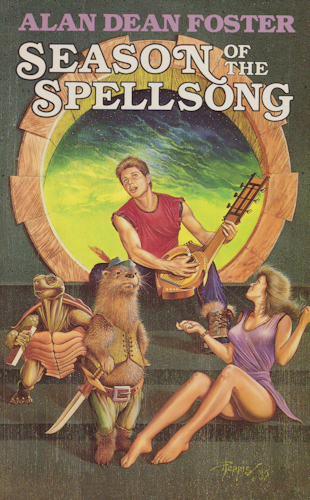 First Edition 1985
Nelson Doubleday / Science Fiction Book Club
New York
Publisher Code: 01827
Hardback in dust jacket


Cover illustration by Steve Ferris


vi+730 pages
Price: $8.50

Notes
An omnibus edition of the first three Spellsinger novels.

Includes:
Spellsinger
The Hour of the Gate
The Day of the Dissonance
Publisher's Blurb – Lower Cover
Meet Jonathan Thomas Meriweather, frustrated musician and desperate graduate student cramming for an exam – until he suddenly is bespelled into a world not his own, brought there by the magic of a master wizard, a turtle named Clothahump. Clothahump's world, a realm where humans are but one minor species amidst countless intelligent animals, has been endangered by a great yet mysterious evil from Earth, and the turtle wizard has worked a mighty spell to bring a sorcerer from that world to stand with him against this force of darkness.

What he gets, however, is no Earthly wizard – otherwise known as an engineer – but Jonathan, who is quickly nicknamed Jon-Tom and placed in the guardianship of the otter thief Mudge until such time as he adapts to this strange new world. But Jon-Tom doesn't want to adapt, he wants to go home. Unfortunately, the spell Clothahump used to bring Jon-Tom there has left the turtle so exhausted he cannot possibly return the human to Earth for some time to come – if ever….

Then Jon-Tom accidentally discovers that he does have a magical skill – the ability to cast spells through music — and, as a Spellsinger, he eagerly joins in Clothahump's plans, helping the wizard in a final attempt to bring an Earth wizard across the dimensions while at the same time hoping to ride the spell back home.

However, Jon-Tom's spellsinging proves unreliable, and he ends up still in Clothahump's world, with a fellow Earth exile to deal with. She is Flores Quintera, a woman he has long secretly admired, and she is delighted at the adventure she finds herself in and quickly proves a skilled warrior. Shamed by Flor's enthusiasm, Jon-Tom resigns himself to aiding Clothahump, Mudge, Flor, the lovely human thief Talea, the con-artist rabbit Caz, and the Marxist dragon Falameezar in their desperate quest to rally the warmlander animals against the menace of the evil invaders – the insectile Plated Folk – and their secret force of destruction. After all, if he doesn't try to help save this world, what chance will he ever have of returning to his own?
If you are looking for new, secondhand or out-of-print books then AbeBooks UK may be able to help.
Alternatively, you can search and order through AbeBooks.com.