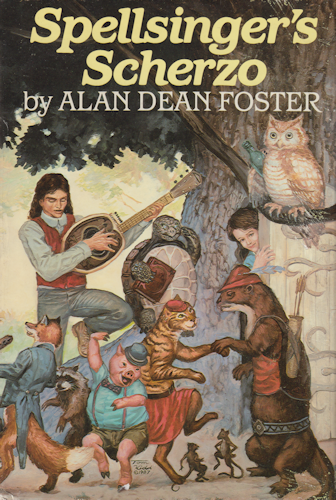 First Edition 1987
Nelson Doubleday / Science Fiction Book Club
New York
Publisher Code: 10611
Hardback in dust jacket


Cover illustration by Tom Kidd


vi+666 pages
Price: $7.98

Notes
An omnibus edition of the second three Spellsinger novels.

Includes:
The Moment of the Magician
The Paths of the Perambulator
The Time of the Transference
Publisher's Blurb – Lower Cover
When the wizard Clothahump needed a sorcerer to defeat the enemy menacing his world, the elderly turtle never dreamed that his dimension-spanning spells would conjure up Jon-Tom Meriweather.

A law student and would-be rock musician from 20th-century Earth, Jon-Tom scarcely believed in the magic which had ripped him from his own world and landed him in a place where animals talked and sang, gambled and thieved, built cities and made war upon one another. At first, all he wanted was to find his way back home. But when he learned that on this world he could claim the title of Spellsinger, making magic through the power of his songs and his guitar-like duar, and when he realized the dangers his new-found friends faced – Clothahump himself, Mudge the otter, the beautiful pickpocket Talea – Jon-Tom knew he must stand with them against the dark magic.

Yet for good or ill, magic attracts more magic, and with one foe defeated, Jon-Tom and his comrades have deadly, magical trials ahead in the three novels comprising

Spellsinger's Scherzo.

THE MOMENT OF THE MAGICIAN: When a human wizard black-magics his way to power in the city of Quasequa, can Jon-Tom break his diabolical enchantments and end his plans for conquest?

THE PATHS OF THE PERAMBULATOR: A dimensional traveler is working bizarre transformations over Jon-Tom and his friends. Can magic conquer madness before the world is changed beyond recognition?

THE TIME OF THE TRANSFERENCE: His magical duar smashed. Jon-Tom must undertake a quest for the one wizard with the talent to repair it – a quest that will lead from a pirate's ambush, to a demonic battle, to his own home world and beyond!
If you are looking for new, secondhand or out-of-print books then AbeBooks UK may be able to help.
Alternatively, you can search and order through AbeBooks.com.