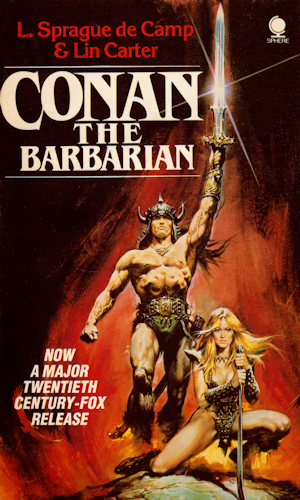 Issued: 1982
Sphere Books
London
ISBN 0722147503
Paperback


Cover illustration by Renato Casaro


x+182 pages


Notes
Conan the Barbarian, a Conan film novelization by L. Sprague de Camp and Lin Carter.

This edition does not display a volume number but a space was left in the numbering sequence between The Road of Kings (Vol.17) and Conan the Rebel (Vol.19).

First published by Bantam Books in 1982.

Publisher's Blurb – Lower Cover
OUT OF A DARK AGE COMES THE GREATEST WARRIOR OF ALL TIME . . .

In a land of darkling twilight, a world of ancient wizards and dazzling treasures, of raging monsters and valiant warriors, the fate of kingdoms balances on his blade alone . . .

As a child he saw his parents slaughtered by the Snake Cult. In slavery he grew to mighty manhood, trained as a master swordsman and gladiator. As he slaved in chains he planned for freedom and murderous revenge. His day would come. For he was destined to become the warrior who would rule all . . .

Thief. Warrior. Gladiator. King.

CONAN THE BARBARIAN.

DINO DE LAURENTIIS presents AN EDWARD R. PRESSMAN production
ARNOLD SCHWARZENEGGER - JAMES EARL JONES
SANDAHL BERGMAN - BEN DAVIDSON - CASSANDRA GAVIOLA - GERRY LOPEZ - MAKO - VALERIE QUENNESSEN - WILLIAM SMITH - MAX VON SYDOW as King Orsic
Written by John Milius and Oliver Stone
Music by Basil Poledouris
Executive Producers D. Constantine Conte and Edward R. Pressman
Associate Producer Edward Summer
Produced by Buzz Feitshans and Raffaella De Laurentiis
Directed by John Milius
RELEASED BY TWENTIETH CENTURY-FOX
L. SPRAGUE DE CAMP AND LIN CARTER
BASED ON A SCREENPLAY BY JOHN MILIUS AND OLIVER STONE
If you are looking for new, secondhand or out-of-print books then AbeBooks UK may be able to help.
Alternatively, you can search and order through AbeBooks.com.