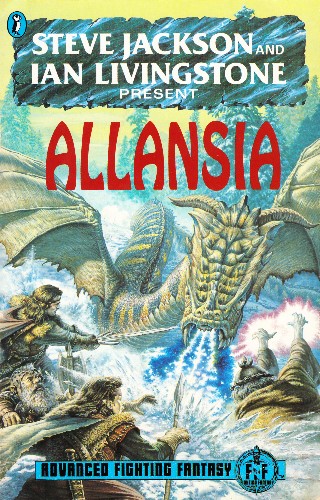 First published 1994
Puffin Books
London
ISBN 0140360514
Trade paperback


Cover illustration by John Sibbick


Interior illustrations by Russ Nicholson
Maps by Steve Luxton and Leo Hartas
[vi] + 330 pages

Notes
Allansia by Marc Gascoigne and Pete Tamlyn is the third volume in the Advanced Fighting Fantasy series. As well as further developing the rules and concepts of AFF, this book contains detailed background information on a wide range of outdoor environments (on Allansia, one of Titan's three continents) suitable for use in the design of AFF adventures, along with one extensive adventure: A Darkness Over Kaad.

Publisher's Blurb – Lower Cover
Lands of adventure!

The world of Titan is an extremely dangerous place. Mankind and its allies huddle in fortified settlements, for beyond the castle walls the wild lands stretch across three continents. Out in the wastelands, Ore tribes war with each other for dominance. Savage monsters roam at will in search of food. Evil sorcerers ready their inhuman armies for battle. No one, surely, would venture out into such inhospitable places – unless the rewards were so great a hero couldn't possibly refuse!

V\

Allansia is the third volume in the Advanced Fighting Fantasy series, and within its pages you will find rules for designing and running adventures in the savage lands of Titan. In Dungeoneer you ventured into the deadly underground realms in search of treasure. In Blacksand! you dared enter the crime-ridden cities and towns. Now it is time for YOU to explore the wilderness, in search of the greatest rewards of all!

FIGHTING FANTASY – THE WORLD'S MOST POPULAR ADVENTURE GAMEBOOK SERIES
If you are looking for new, secondhand or out-of-print books then AbeBooks UK may be able to help.
Alternatively, you can search and order through AbeBooks.com.