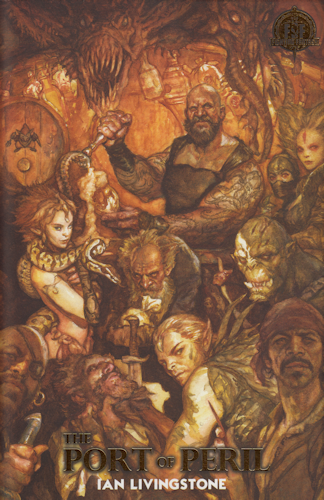 First published 2017
Scholastic Children's Books
London
ISBN 9781407184296
Hardback in dust jacket
Cover illustration by Iain McCaig
Dust jacket map by Leo Hartas
Interior illustrations by Vlado Krizan
Interior map by Leo Hartas
400 sections

Notes
Fighting Fantasy Collector's Edition.

Numbered edition. Limited to 500 copies.
All copies signed by Ian Livingstone.

Publisher's Blurb – Front Jacket Flap
20 million copies sold in 35 countries across the world.

A special collector's edition of Ian Livingstone's brand new book,

The Port of Peril, to celebrate the 35th anniversary of the launch of Fighting Fantasy.

With an exclusive cover by Iain McCaig, the iconic Fighting Fantasy illustrator.

Are YOU brave enough to face the savage demons of the underworld?

Evil stalks the land, as undead hordes rise from their graves to terrorize the living. You, the hero, must embark on an epic quest from Moonstone Hills to the shadowy streets of Port Blacksand to the depths of Darkwood Forest, and ultimately face your worst nightmare...

Publisher's Blurb – Rear Jacket Flap
Ian co-founded iconic games company Games Workshop with Steve Jackson in 1975, launching Dungeons & Dragons in Europe. In 1982, he co-authored The Warlock of Firetop Mountain, again with Steve Jackson, the first interactive gamehook in the Fighting Fantasy series which has sold over 20 million copies worldwide. He has written 15 titles in the series, including City of Thieves, Forest of Doom and Deathtrap Dungeon. His new book, The Port of Peril, marks the 35th anniversary of Fighting Fantasy. When serving as Executive Chairman at Eidos, he launched many major video games franchises including Lara Croft: Tomb Raider. He has been awarded a CRE and a BAFTA Special Award for his services to the video games industry.

Iain McCaig divides his energies between a lifelong love of storytelling, and a passionate belief that everyone in the world can learn to draw.
Iain is best known for his cover art for Jethro Tull's

The Broadsword and the Beast and for his Star Wars designs for Queen Amidala and Darth Maul. He recently contributed designs for John Favreau's live-action The Jungle Book and J.J. Abrams' Star Wars: The Force Awakens.
In 2014, he received the Spectrum Fantastic Art Grand Master Award.
If you are looking for new, secondhand or out-of-print books then AbeBooks UK may be able to help.
Alternatively, you can search and order through AbeBooks.com.