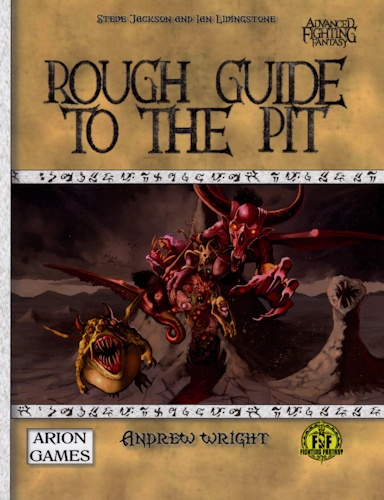 First published 2019
Arion Games
Wensleydale
ISBN: None
Publisher code: CB77016
Large format paperback


Cover illustration by Mike Tenebrae


Interior illustrations by Mike Tenebrae, Mustafa Bekir, Huargo, Johan "Inklord" Tiedlow and Andrew Wright
60 pages

Notes
A companion volume by Andrew Wright to accompany the Demons of Doom role playing game module for the revised, rewritten and expanded edition of Advanced Fighting Fantasy by Graham Bottley.

Publisher's Blurb – Lower Cover
For the first time ever, we bring you the definitive guide to the Pit; the realm of Demons and the Undead, and scourge of all that is Good upon the world of Titan. Dare you open this loathsome tome and discover:
Descriptions of the 8 Demonic Planes
12 brand new Demon types
A random Demonic Plane generator
12 new Encounter Tables; including 1 for each Plane
22 new Evil Gods to worship
New rules on Demonic Familiars (taken from the forthcoming
Return to the Pit)
A new and expanded Demonic Hierarchy, featuring all the Demons and Undead from this book, Demons of Doom, Out of the Pit, Beyond the Pit, and the soon-to-be released Return to the Pit Requires the Advanced Fighting Fantasy 2e core rulebook

Incorporating elements derived from the original Advanced Fighting Fantasy books written by Marc Gascoigne and Pete Tamlyn
If you are looking for new, secondhand or out-of-print books then AbeBooks UK may be able to help.
Alternatively, you can search and order through AbeBooks.com.